Are you a WooCommerce user looking for ways to optimize your e-commerce business? If so, you've come to the right place! Setting up and optimizing your WooCommerce store can seem daunting at first; however, with our guide it doesn't have to be! We will break down the process step by step, giving you all of the tips and tricks that experienced expert e-commerce users use.
Why Choose WooCommerce for Your E-Commerce Store?
WooCommerce has become a dominant force in the e-commerce industry, with more than 6.5 million websites powered by its platform as of July 2022. Its enormous success can be attributed to its popularity, which has been reflected in its more than 211 million downloads of the WooCommerce plugin worldwide. Stats reveal that it currently holds a remarkable 36.68% global market share.
How to Set Up WooCommerce?
Setting up an online store can take a lot of time and effort, but with WooCommerce, it's easier than ever to get started!
To begin, simply install and configure the WooCommerce plugin on your website. Once you have that set up, it's time to configure your shipping options. Some popular options include flat rate shipping, free shipping, local pickup, and live rates from carriers.
No matter what option you choose, it's important to make sure it fits your business needs and provides a positive customer experience. By taking the time to set up your WooCommerce shipping options, you'll be one step closer to providing high-quality service to your customers.
Click here to know steps to install and set up WooCommerce on you website.
WooCommerce Shipping Zones
Shipping zones refer to the geographic areas that carriers have divided the country into based on shipping distances. These zones play a crucial role in determining how much a shipment will cost, as well as its delivery time.
Essentially, shipping rates are influenced by the distance from the shipping origin to the destination. The longer the distance, the more expensive the shipment.
Creating Shipping Zones in WooCommerce
WooCommerce makes it easy to set up shipping zones. First, navigate to the shipping settings in your WooCommerce dashboard and select the "Add shipping zone" button. From there, you can input the desired region, set shipping rates, and specify the carrier options available.
It's important to consider factors such as location, package weight, and shipping duration when configuring your shipping zones.
Steps to Add a New Zone
Step 1: Go to: WooCommerce > Settings > Shipping > Shipping Zones.
Step 2: Select Add shipping zone at the top.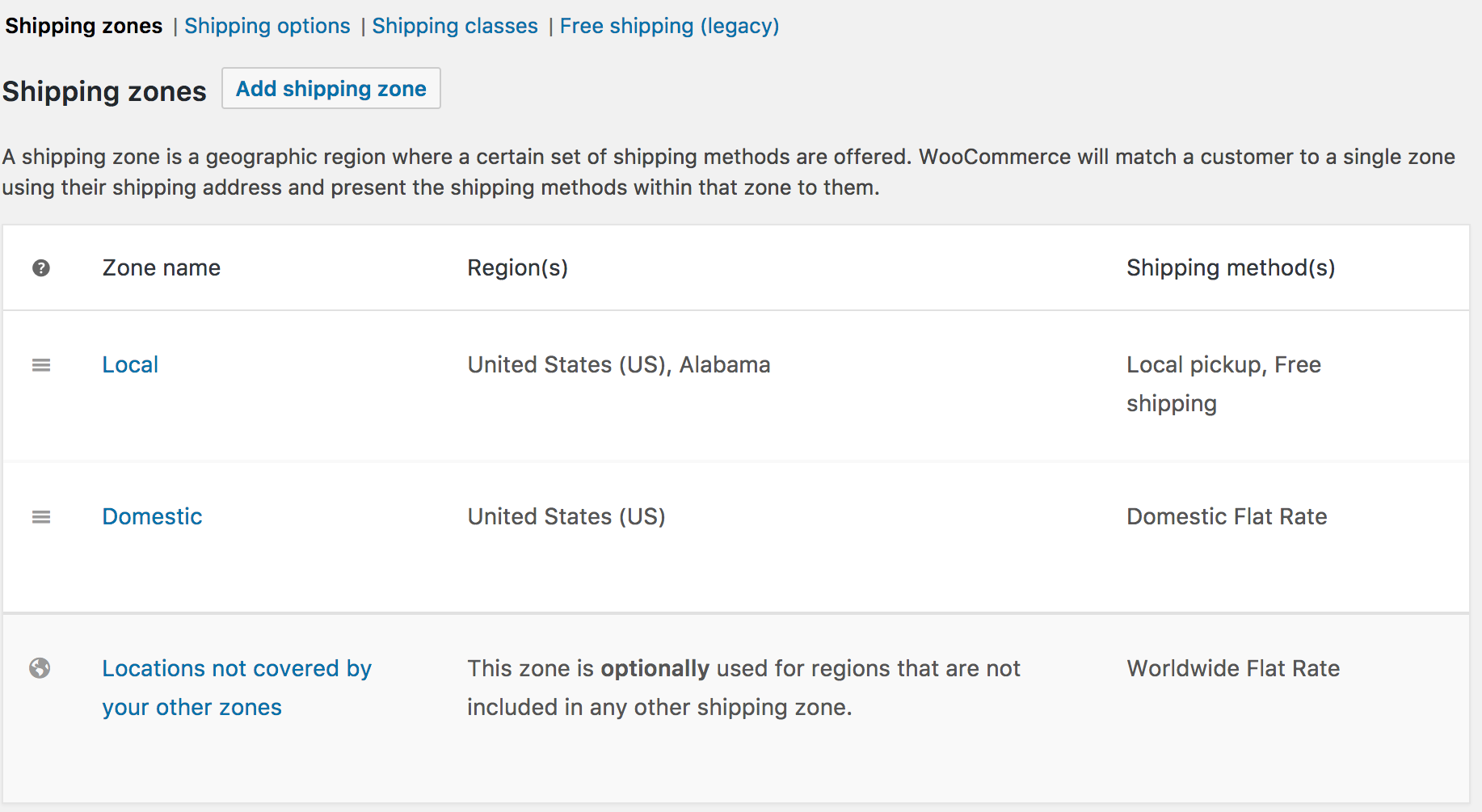 Step 3: Enter a descriptive Zone Name, and select Zone Regions that apply. Regions can consist of: a) Countries, b) States, c) Continents.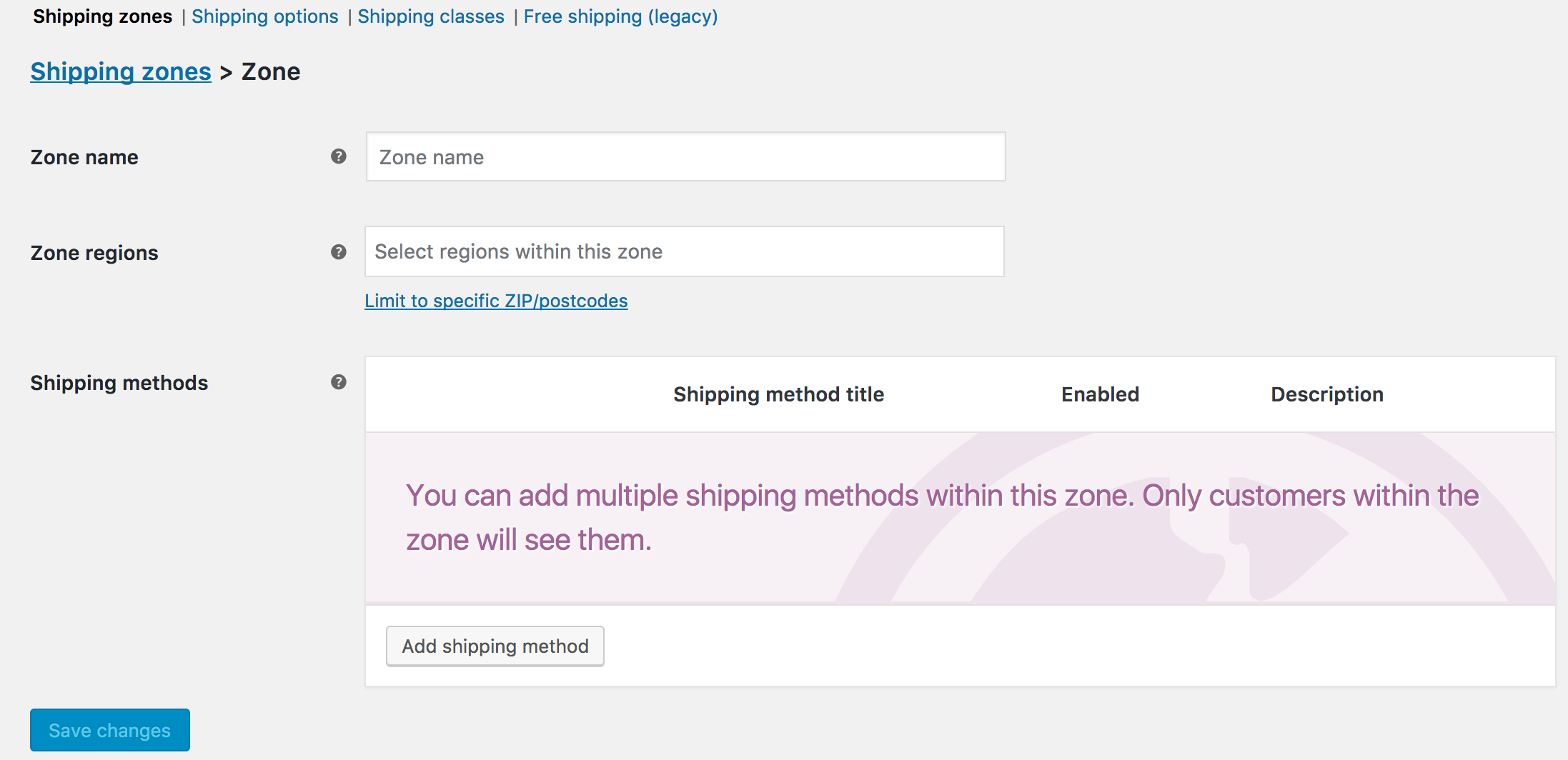 Step 4: Select Limit to specific zip/postcodes (if applicable) to further narrow which customers match this zone.

Step 5: Select which Shipping Methods are available to this zone.
Step 6: Save changes.
Tips for Optimizing Shipping Zones for Cost and Efficiency
Shipping zones in WooCommerce can significantly impact your business's bottom line. To optimize them for cost and efficiency, start by taking a closer look at your shipping profile and making any necessary adjustments.
Consider the speed and cost of each shipping method and evaluate your customer base's location as it may affect the zones you offer. Additionally, keep an eye out for carrier discounts and promotions that can help you save money on shipping costs.
When optimizing your shipping zones, it's also essential to communicate clearly with your customers about shipping options, including estimated delivery times and any potential delays.
E-Commerce Fulfillment Options
When it comes to e-commerce, fulfillment is a crucial element of the shipping process. It involves getting products from the warehouse or storage facility to the customer's doorstep. E-commerce companies can choose one of two options for fulfillment:
In-House Fulfillment: In this case, the company manages the entire fulfillment process, from inventory management to shipping to customer service. It requires a significant investment in resources, such as staff and equipment.
Third-Party Fulfillment: This involves outsourcing the fulfillment process to a specialized company. They manage the entire process, typically with greater efficiency due to economies of scale.
Both options have their pros and cons, but ultimately, the choice comes down to the needs and capabilities of the company.
APS Fulfillment's Third-Party Fulfillment Services Compatible with WooCommerce
APS Fulfillment, Inc. offers seamless integration with WooCommerce through our advanced order fulfillment services. Our state-of-the-art warehouse management software (WMS) effortlessly connects with your WooCommerce-powered e-commerce store, streamlining stock management and inventory control.
From start to finish, APS Fulfillment's integration with WooCommerce enhances your customers' buying experience. With features that take care of shopping, checkout processes, shipping, and delivery journeys, you won't have to worry about a thing.
Shipping Customization and Add-Ons for WooCommerce
As a WooCommerce store owner, it's essential to provide your customers with convenience and flexibility when it comes to shipping. Luckily, there are a variety of extensions available to customize and enhance your shipping options. With these extensions, you can provide a seamless and personalized shipping experience for your customers.
Table Rate Shipping: This is a popular choice, allowing you to set up different shipping rates based on location, cart total, weight, or quantity.
Shipping Multiple Addresses: If you have customers who want to ship to multiple addresses, this add-on is a great extension to consider. With this feature, customers can easily split their order and send items to different locations without the hassle of placing multiple orders.
Advanced Shipping Packages: For those who need to ship complex packages, Advanced Shipping Packages provides the ability to create custom shipping rules based on dimensions, weight, and shipping class.
Best Practices for WooCommerce Shipping
When it comes to running an online store, shipping is one of the biggest concerns for customers. And for good reason—who wants to pay exorbitant fees for slow delivery or be faced with limited shipping options?
If you are a WooCommerce store owner, below are some best practices for shipping.
Offering multiple shipping options can be a great way to give your customers control over how quickly they receive their orders and how much they pay for shipping.
It's also important to regularly review and update your shipping rates and zones to make sure you're not overcharging or undercharging your customers.
Striking the right balance between shipping costs and customer satisfaction can be a challenge, but with a bit of effort and attention to detail, you can create a shipping strategy that works for both you and your customers.
Choose APS Fulfillment, Inc. for WooCommerce Fulfillment
At APS Fulfillment, Inc., we pride ourselves on our real-time processing ability. With us, your order is confirmed, picked, packed, and shipped with one of our trusted partners—all in under 24 hours. Partner with APS Fulfillment today to take advantage of our cutting-edge technology for your business's fulfillment needs. Book a consultation by calling (954) 582-7450 or email [email protected].