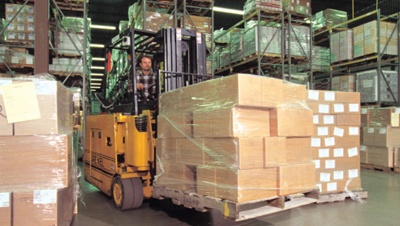 Storing's Not Boring
Stuff, stuff, and more stuff. We want to own more, but complain once we have too much. Sometimes we're left wondering why we need so many things in the first place.
Despite the complaints though, there are things people need. Be they tools for maintenance or gadgets for entertainment purposes, these items help us get through our day-to-day lives.
Such items are a perfect means of attracting business in product fulfillment. You've got the stuff people want, and they're willing to pay you for it.
However, sooner or later, everything will start to pile up. Product fulfillment pros own not only have their own office and business equipment, but also a whole plethora of goods for clients to purchase. That's a lot of stuff, and at some point, they'll have to figure out where to put it all.
Enter the world of warehouse storage. It sounds minor, but few things are more important to product fulfillment. Knowing more about warehouse storage can open up a lot of options and save you money, too. Storage for product fulfillment is a lot of things, but boring is not one of them.
Beyond the Storage Locker
In truth, a basic storage locker might be the only storage container you'll ever need for product fulfillment. Modern storage lockers have 24/7 access and tight security for good prices.
However, if you have a larger product fulfillment business, you might want to consider other warehousing facilities—ones that do more than just sheltering your goods. Many warehousing services today offer extra services for your product fulfillment needs, such as warehouse and shipping combos or rush delivery. Take note, however, that additional services come with a heftier price tag.
A lot of warehousing operations are now catering specifically to product fulfillment. This is beneficial to product fulfillment businesses, as it allows them to take care of storage and the related stages of the fulfillment process while freeing them up to focus on other aspects of the business.
Knock on Any Door
Warehousing services are expansive, making it difficult to determine which to use. Some are better than others, so you'll have to do research to see which ones are right for you and offer the best prices.
Often, warehousing facilities further away from home may be best. Many pros use warehousing facilities in different cities than their own; for example, seek out warehousing companies in Florida to handle shipping issues, have access to on-site professionals, and keep your materials stored properly. Don't be afraid to go looking for the right warehousing business that has everything you need under one roof. This is where two good services, warehousing and fulfillment, come together for successful results.
Need solutions to your product fulfillment problems? APS Fulfillment, Inc. has the knowledge and services to make your direct mail and product fulfillment ventures more successful. Contact APS Fulfillment, Inc. by e-mail at [email protected], visit their web site at www.apsfulfillment.com, or phone at (954) 582-7450.