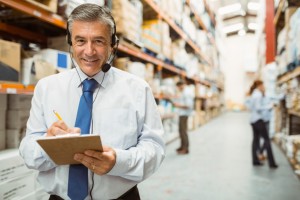 The holiday season is here and millions of shoppers are furiously scanning web sites or running down to stores to shop for friends, family, or even themselves. At this time of year, consumers are purposely looking to spend, and as a business, you need to show them that they can and should spend with you.
The question is: are you ready? Your business and warehouse fulfillment services need to be ready to handle the onslaught of sales that are sure to occur or may be occurring as you read this. Much of this preparation should have already taken place, but you may have other spikes throughout the year, so it's always good to know what steps need to be taken in order to keep up. 
Get Extra Help
If you're a smaller business on the brink of expanding and this holiday rush may be a bit too much for you to handle, don't hesitate to get some help. That help can be in the form of an outsourced fulfillment company that already has the experience and the capability to quickly scale your operations to the necessary levels. You would absolutely hate to disappoint your customers during the holidays with late or wrong deliveries. Don't take that risk. Those customers probably won't give you a second chance. 
Postage Times and Last-Minute Deliveries
You have to expect that some shoppers are going to shop as close to gift-giving time as possible. Your business needs to be prepared to ship to these customers so they are still able to get their products in time. You need to have the ability to ship within two days of receiving an order. An experienced fulfillment company will be able to manage those deliveries.
Another point to keep in mind if your business is shipping internationally is time differences. Understanding and being knowledgeable of the time differences around the world is essential to keeping accurate delivery times. Make sure your customers are well aware of where you can or are willing to ship with the expected arrival dates are clearly listed. 
January Sales and Returns
Despite all the excitement in December, it's imperative that your business doesn't forget about January. Customers are still spending in the new year, presumably with some of the money or gift cards they received during the holidays. Make sure inventory is still stocked and you are still on top of all your delivery schedules.
Another factor your business needs to be prepared for in January is returns. Not only are returns normal at the beginning of the year, they will probably be happening in waves. Make sure your return policy is clearly stated on your web site. The procedure should be simple to follow and you should maintain the same efficiency as with regular shipments.
The holidays are a hectic time of year, and the time immediately after the holidays presents its own challenges. Ensure your warehouse fulfillment operations are arranged, and your business is able to deliver products on time and in sound condition.
APS Fulfillment, Inc. is a Florida-based warehouse fulfillment provider and is ready to help your business through the holiday season. Contact us to learn more about the fulfillment services we offer.