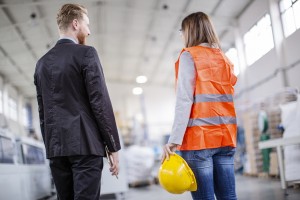 E-commerce fulfillment companies can provide businesses with many great benefits along every aspect of the supply chain. Since seeing is believing, there are several reasons why visiting your third (3rd) party fulfillment partner is a good idea. You may be visiting manufacturing sites and branches on a regular basis, but it is also important to visit your third-party logistics 3PL partners. Why is this important? Here are a few reasons why you should consider visiting your 3PL providers.


Meet Your Potential 3PL Team
Meeting the people who will be working on the ground for your project is extremely valuable. You may not meet every single person on the team, but if you meet the key people who oversee your operations you will get an understanding of how they work. When you meet them, have these questions in mind: Are they formal or easy-going? Are they relaxed and efficient or stressed out? Are they very particular about the processes or are they laid-back? As long as they are getting your work done efficiently and productively, it does not really matter what their style of work is, however, it is good to get an understanding of their behavior and see if that style works for you. You and your 3PL partner should understand each other when you communicate, and you should both be proactive enough to spot issues and communicate with each other throughout the process. It is always more productive to know how they work and let them see how you work, and share ideas and strategies to make your relationship more mutually beneficial.
Understand Their Processes and Procedures
When you and your 3PL partner signed the contract, you stated your requirements and they agreed to be compliant with them. However, many well-established providers go above the bare minimum because they understand the benefits of doing so. By understanding the processes of your partner, you will be able to see if you can optimize any of your processes within the supply chain. Be sure to get a good understanding of how they operate when you visit the facility, and find out what steps can be taken to integrate their systems with yours so that information can flow seamlessly.
Understand Their Facility
Seeing the actual facility is much different than looking at your agreement on paper, especially in cases where your product requires specific handling. A still photograph alone cannot show the ongoing cleanliness of the facility. A photograph cannot show how good your 3PL partner's cold storage is. Visiting your 3PL provider's facility will allow you to see how they handle fragile products, organize items, and pack their materials.
Know the Strategies
Every business has a plan for growth, whether they want to grow rapidly with one kind of product, or diversify to different products. Many businesses also set themselves a growth target. By visiting the facility, you will be able to understand if your providers can support your growing needs. Ask questions such as: Are they large enough to handle volume growth? Can they handle volume spikes during seasonal highs? Do they have the storage facility for the different product lines you hope to distribute in the future? Do they have adequate transporters to meet your speed and cost requirements? There are many areas to consider in terms of strategy, but when you are looking for a long-term partnership, you should remember that visiting their facility is an important part of moving forward into growth.
Outsource Your Logistics to APS Fulfillment, Inc.
Outsourcing to a reputable and successful order fulfillment company will save you the trouble so you can focus on other important areas of your business. If you want to benefit from maximized profits, reduced wait times, and top-notch customer service, consider working with APS Fulfillment, Inc. Our reliable and hard-working professionals provide our clients a variety of solutions to meet their warehouse organization needs. Our 3PL services include e-commerce fulfillment services, product fulfillment, direct mail marketing, fulfillment solutions, and fulfillment markets. We also use the best quality systems to manage your warehouse, so if you're looking for the right company, look no further than APS Fulfillment, Inc. You can contact us by e-mail at [email protected] or by phone at (954) 582-7450.
Photo Credit: iStock.com/milanvirijevic