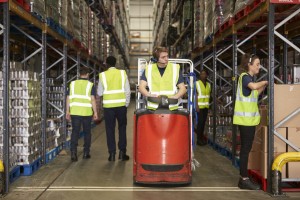 All businesses are different and in different stages of growth. But do you know what the one thing most companies have in common is? They can all benefit from using 3PL warehousing services. There's the misconception that only those who can't afford their own warehouse opt for 3PL warehousing and distribution, but that's not the case at all. Companies that use 3PL partners, regardless of whether they can afford their own warehousing services are not, can reap the benefits of scalable services and vast resources. Still on the fence about a 3PL partner? Check out all the benefits of using an outsourced warehousing service.

Reasons to Use a 3PL Warehouse Service
Resources
3PL providers have contacts around the world to make their logistics process a painless one. Because they use supply chain routes so often, they know the ropes when it comes to border regulations and fees—something you won't want to mess up if your supply chain is internal. When you work with a 3PL provider, you can take advantage of their extensive knowledge of the industry, and use it to cut down on costs and make your supply chain as fluent as possible.
Scalability
The convenience of true scalability can only be achieved when working with an outsourced warehousing and/or distribution service. You can pick and choose when to increase and cut down your services—and it won't be of any inconvenience to you. Your 3PL partner will be able to ramp up and scale down your services as needed, depending on the growth of your business.
Expertise
If you're a new business owner and just stepping into the logistics industry, a 3PL partner can help you learn the ropes. They eat, sleep, and breathe logistics, so you can trust in their expertise in the business. Even if you want to work your way up to having in-house warehousing and distribution, it's a good idea to start with a 3PL partner, and learn from them before diving in head first.
Accuracy
Since their one and only focus is logistics, you can be assured that 3PL providers will make minimal slip-ups in your fulfillment process. It's important to get the right packages to customers on time in order to maintain good relationships with them—and you can count on 3PL providers to get the job done.
Advanced Technology and Innovation
3PL providers will have more advanced technology and innovative strategies when it comes to creating an efficient supply chain. They're constantly making investments to make their operations run faster and more smoothly. When you partner up with a 3PL provider, you—and your customers—can reap the benefits of these upgrades.
By choosing APS Fulfillment Inc. to be your 3PL partner, you'll be able to not only save money and time by eliminating the need to set up your own warehouse and distribution system, but you'll also be able to scale your fulfillment services depending on the growth of your business. Fast and dependable fulfillment services is integral to maintaining a good rapport with customers, which is why you should trust APS. We take the extra care to ensure your customers receive their packages on time, and in good condition. Contact us today to learn more about how we can help your small business continue to grow.
Photo Credit: iStock.com/monkeybusinessimages