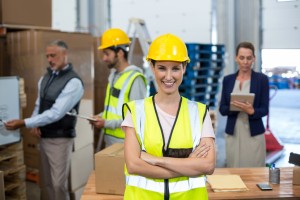 There are many terms in logistics that can be easily confused if you're new to the industry. Third-party logistics (3PL) companies and freight forwarding services are two terms that may seem to be interchangeable but are completely different in the world of logistics. Importing and exporting are key components of many businesses, and it's important to know the difference between 3PL services vs. freight forwarding in order to make the best choice for your company. Keep on reading to find out about freight forwarders and 3PL providers in logistics so that you can make an informed decision.
What Is Freight Forwarding?
Transporting goods internationally and locally can be a hassle, especially if you're unfamiliar with shipping regulations. That's where a freight forwarding service can come in handy. In general, freight forwarding is the coordination and shipment of goods from one destination to another using single or multiple carriers. Carriers can include various methods, including air, marine, rail, or highway. They're able to take care of a full range of services, from tracking inland transportation, booking cargo space, negotiating freight changes, preparing shipping and export documents, and even filing insurance claims.
When making the decision between 3PL services and freight forwarding, one important thing to note is that a freight forwarder does not actually move your freight itself—it acts as an intermediary between a shipper and various transportation services. Freight forwarding companies utilize their relationships with carriers, including air freighters, trucking companies, rail freighters, and ocean liners, to negotiate the best possible price to move their client's goods. This way, their customers will be able to take advantage of the option that offers the best balance of speed, cost, and reliability.
Why do people choose to use freight forwarders when they could just make arrangements for shipping their products themselves? The truth is that freight forwarders offer rates that companies may not be able to get on their own. Their established relationships with carriers allow them exclusive prices, from which their customers can benefit. In addition, their extensive knowledge of documentation requirements, regulations, transportation costs, and banking practices can make the export process a lot easier for companies. Regardless of your freight size, freight forwarders can handle all export responsibilities and take the burden off your company.
What Are 3PL Services?
3PL, otherwise known as third-party logistics, is the outsourcing of some or all of your supply chain and logistics operations. This means that a third-party company will take care of your entire supply chain and logistics operations, leaving you free to focus on your business development, sales, and marketing. The need for 3PL providers continues to grow as the logistics industry becomes more and more complex. It had become difficult for small- and even medium-sized companies to keep up with all of the advancements, and often, it no longer makes sense for them to try and keep up. 3PL providers not only free up valuable business time, but they can offer great transportation costs as well.
The main tasks that third-party logistics services include are: cross docking, retail scan packaging, inventory management, order management and processing, reporting, as well as freight and distribution. When businesses hire 3PL providers to take care of their entire supply chain, there's nothing additional they'll have to worry about when it comes to logistics. However, while 3PL providers can be full-service, companies also have the option to take advantage of some of their services and exclude others. The most common tasks that companies outsource to 3PL providers include: domestic transport, international transport, warehousing, customer brokerage, and freight forwarding.
More than half of all shippers outsource some or all of their logistics services. Why? Because it makes good business sense. Unless you have the in-house resources to manage all the services we've listed above, chances are that your company can greatly benefit from hiring a 3PL provider. When you hire a company to handle all of your supply chain needs, there are a ton of benefits that come along with it. You'll notice increased order-fill accuracy, and you'll have more time to focus on growing other parts of your business. In addition, you'll have the advantage of a low capital commitment, and the flexibility to scale back when you need to.
3PL Services vs. Freight Forwarding
The line between 3PL providers and freight forwarders can sometimes become blurred thanks to their somewhat similar roles. However, the differences between them should be clear after reading about each service.
Freight forwarders offer a broker-type service, allowing companies to get the best rates and combination of carriers figured out on their behalf. They act as a middle man and coordinate pretty much everything from booking cargo space to filing insurance claims. However, freight forwarders do nothing beyond this—their services end at organizing how your products will get from point A to point B. This means that you'll have to organize warehouse storage, picking and packing, and other tasks.
3PL providers are difference in the sense that they can be full-service, meaning that they're able to take care of your entire supply chain. This includes warehouse storage, picking and packing, as well as shipping. Companies can reap many of the same benefits from 3PL providers as from freight forwarding and even more depending on whether they decide to take advantage of all of their services. Third-party logistics services offer some flexibility as well since companies can pick and choose which services they'd like.
When deciding between freight forwarding and 3PL services, the most important thing to do is evaluate the needs of your business. Figuring out which service would be the most cost-efficient and make the most sense for your company will help you make an informed decision.
Third-Party Logistics Services in Florida
APS Fulfillment, Inc. is the number one third-party logistics company in Florida. Why? We make the products fulfillment process easy for providers and customers alike. We understand that your customer relationships depend on how reliable your fulfillment services are, and we can guarantee that your products will be delivered on time and in immaculate condition every time. When you choose APS Fulfillment, you can be confident that you will be trusting a company that has dealt with international shipping laws on a regular basis and knows the routine. We work out of one of the largest logistic centers in the world, so you'll also have peace of mind that your items are always kept safe. Contact us today for more information about our fulfillment services and to learn how we can help your business.