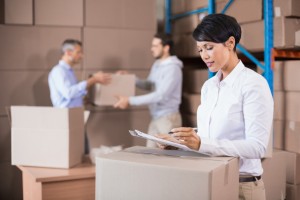 It's important that before you begin any shipping and logistics of your products that you think about partnering with a third-party logistics (3PL) company. 3PLs are built to manage some or all of your logistics, depending on the needs of your business. But knowing how to choose a 3PL provider is the first step. There are many questions you should be asking and certain characteristics the third-party logistics company should already have in place.  
The Right 3PL Service Provider
The difficult part about trying to select the right 3PL service provider is that they are not providing a physical product. You are assessing them based on their track record and their potential to elevate your company in its logistics efforts and are measuring things like consistency and efficiency without ever having actually worked with this company.
But just because it's difficult doesn't mean there aren't ways to accurately assess a third-party logistics company's possible value to your company. You should probably set up a team for reviewing the request for proposals (RFP), with that team consisting of representatives from different departments. Understand that you are likely about to enter into a long-term contract, typically three to five years, so take your time and perform all due diligence necessary before making any decision.
And because you are entering into a long-term contract, be sure to engage with the 3PL team several times prior to settling on any one company; you may not have a chance to work with the 3PL you are considering, but seeing them in action is the next closest thing. One thing that should also be a point of emphasis is their ability to scale. If you are anticipating that your business will be growing over the three to five years you will be attached to this company, then they must have a model that is capable of growing with you.
Tips for Selecting a 3PL Company
There are some steadfast rules to choosing the right 3PL service provider. We will now describe the five most important, in no particular order:
Geographic Location: As a general rule, your partner 3PL should be within about two days ground shipping of your targets. This keeps your shipping costs down and increases the chances of delivering your products to customers on time.
IT Capabilities: This is key. Your 3PL must be able to use updated technology in a manner that elevates your business. Real time tracking, compatible systems, and a simple but cohesive process of communication that allows for access across all platforms are just some of the technological tools a third-party logistics company should be expected to utilize.
Direct-to-Consumer and Direct-to-Retail Capabilities: Both are essential, particularly for small businesses that may not be able to manage separate inventory systems. Working with a 3PL that has both in place keeps the process streamlined and overhead costs low.
Flexibility: There is no one-size-fits-all approach to be taken in logistics. The nature of doing business has become much too dynamic and it takes personalized approaches to even have a chance at success. Your 3PL must be able to be flexible in how they deliver their services and be willing to make some exceptions for your company.
Cost: It's a factor that must be considered. You of course want optimal service and that's fine, but there must be a way of going about receiving that service without breaking your budget. 3PLs are supposed to be an asset to your company.
APS Fulfillment, Inc. is a Miami-based fulfillment provider. We provide fulfillment services in several different industries and are prepared to partner with companies looking to elevate their logistics. For more information, contact us by phone at 954-582-7450 or by email at [email protected].