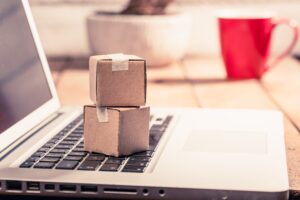 Brick-and-mortar retail stores were already on the way out before COVID-19 made in-person interactions dangerous—we've only just seen the adoption of online shopping and direct-to-consumer fulfillment proliferate. But as your business grows with these new e-commerce opportunities, you'll need a proven direct-to-consumer shipping company to keep up with demand, allowing you to easily scale to meet your growing customer base.
There are few things the online customer prizes more than shipping speed and reliability. Those two factors alone can make the difference between a brand-loyal lifetime customer or them taking their business elsewhere.

Let's quickly dive into some of the options we have here in Florida.
In-House D2C Fulfillment
In-house fulfillment, otherwise known as self-fulfillment, is essentially when direct-to-consumer products are shipped by the company that produces them. In other words, the company handles the sales, inventory, receiving, processing, shipping, and returns.
It can be a lot on your plate.
What's more, it can be difficult to scale effectively to meet a higher demand.
For instance, your business isn't going to have an additional ten trucks sitting around should demand suddenly explode; a third-party shipping company (see below) will have the ability to easily scale to your needs in the event of sudden growth.
The benefit of in-house fulfillment, however, is that you remain in total control. The shipping succeeds or fails based directly on your actions, not the proficiency of an outside provider.
Third-Party Fulfillment
While in-house involves complete ownership of the shipping stage of a sale, third-party fulfillment involves bringing in outside support to manage inventory, shipping, returns, and otherwise relieving your business of that burden.
Many companies opt to work with a third-party direct-to-consumer fulfillment company as they can quickly scale up or down to meet your business's needs (should you, say, have predictable fluctuations in sales with seasonal items or see an unexpected surge in business).
What's more is that these companies are up to date on the developing direct-to-consumer trends, allowing them to incorporate all manner of new technology from innovations to tracking shipments to things like more efficient forklifts, making inventory organization more effortless.
Contact APS Fulfillment Inc. for Direct-to-Consumer Fulfillment Options
You want a fulfillment option you can trust to deliver your goods to consumers on time, and not wreak havoc on your budget or steal your business information. You want APS Fulfillment, Inc.—your number one fulfillment experts.
There are endless benefits to working with a third-party logistics company that uses the best-quality software systems to manage your warehouse. Although other product fulfillment companies offer similar services, APS Fulfillment, Inc. goes the extra step. We take great pride in the fact that our quality control procedures are state-of-the-art, and we guarantee 24-hour turnaround times for our service orders.
We have the tools, knowledge, and resources to relieve you of your shipping burden, so you can get back to growing your business.
Get in touch with us and one of our consultants will tailor a fulfillment plan designed to grow your business. Book a consultation by calling (954) 582-7450 or email [email protected].