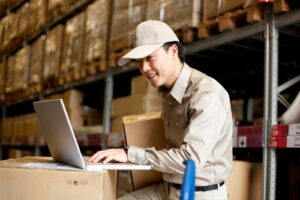 In our e-commerce dominated world, it's no wonder that many businesses that engage in shipping are looking to third-party logistics (3PL) providers to help optimize these processes. In this case, optimization means improving business operations so that they are more efficient, less prone to error, and more cost-effective.
To put it into perspective, 75% of shippers using 3PL services have experienced overall logistics cost reductions. In addition, 86% of shippers said that working with 3PL providers led to superior customer service, an important differentiator in today's market.
So, how do 3PL providers achieve such impressive results? Through leading 3PL software. And the best 3PL providers will ensure that your business takes full advantage of all the benefits that software can provide.
APS Fulfillment, Inc. is a premier 3PL provider precisely for the reasons stated above—because we're using elite-level e-commerce 3PL software.
APS Fulfillment's Advanced 3PL Software
With the proper third-party logistics provider and 3PL software supporting your company, you'll be able to leverage improvements like:
Inventory management optimization
Automation of routine tasks
Complete visibility for customers
And more
With advanced 3PL software, you can cut down on errors, speed up shipping times, better serve customers, and enhance your supply chain overall.
The 3PL software we employ has a proven track-record of turning e-commerce businesses that routinely encounter shipping errors, inventory management issues and headaches, and otherwise inefficient shipping practices, into faster, leaner, and more cost-effective operations.
Our 3PL software has been shown to help induce labor savings of $8,092 a month, with over one million orders processed every week, and order volume on average increasing by 22%.
We'll also seamlessly integrate the software into your processes, ensuring you avoid any sort of installation frustrations, saving time and money. These integrations will help automate and standardize common e-commerce processes that can usually be rife with obstacles, including:
Order retrieval and organization
Order fulfillment consolidation
Syncing inventory across order sources
Order tracking
Why Use APS as Your 3PL Service?
How else does APS Fulfillment set itself apart from competitors?
First, we never leave your business without support. We're there, ready 24/7/365 to provide support and services, so you can access the help you need, when you need it. We know that every moment that your business faces these supply chain issues can translate into hundreds, if not thousands, of dollars in losses.
Our team is also adept at identifying and integrating new technology and software into your business processes. In other words, you won't just get the latest and best 3PL software, but you'll also be able to constantly evolve and leverage the best software to improve your business processes, so you can always stay one step ahead of the competition.
Benefits of Our 3PL Software
Our software will create more efficient operations at your business. We ensure this by optimizing:
Warehouse management
Labor distribution
Workflows across your business
All these optimizations are implemented with software specifically designed to support e-commerce businesses. What's more, it's all managed by a 3PL provider with years of experience helping e-commerce businesses grow and thrive.
Our software also makes billing a cinch, with easy-to-use management tools that will reduce the otherwise overlong time spent on tabulating bills for your customers.
We'll also help you transition to completely paperless operations, automating routine workflows and reducing manual entry times, saving time and money.
And all this is managed via a user-friendly, easy-to-use hub that also makes it simple to see how our software is helping improve your business.
Below are some more benefits of integrating our software into your e-commerce operations.
Hassle-Free Flow of Inventory
Our software is designed to be seamlessly integrated into your system, so you can avoid headaches and frustrations that would otherwise cost your business money during the transition.
What's more, our team has years of experience working to integrate our software with your business, walking you through how to use the software and maximize its positive impact on your workflows.
Integrates All Channels
No matter how you ship or the source of your orders, our integration technology and best practices make it easy to consolidate all your sources via a single software package—from Amazon to eBay, Shopify, WooCommerce and Magento.
This helps to dramatically cut down on management time and errors, allowing your business to become faster and more efficient.
Notification Alerts Sent for Each Step
Maintain full visibility on all your processes so you can easily respond to any issue that may arise. You'll be able to quickly see:
When inventory is received
When inventory is stocked
When an order is shipped
Expiration dates on goods
When inventory levels are low
System adjustments
In addition, you can boost customer satisfaction and service with automated and consistent updates being sent to your shipping recipients.
Precise Inventory Tracking
Never lose track of an item with a consistent flow of alerts and notifications giving you full visibility on every shipment.
Our software augments your business with first-in, first-out tracking, inventory tracked per incoming shipment, and more.
One Stop Hub for All Inventory
Manage all your processes via a single hub that allows you to sync all your carts and order sources at the same time and provides a single point from so you can gain visibility on all your inventory.
Takes Wholesale and Retail Orders
Our software makes it easy to integrate external orders into the system, keeping your numbers consistent and accurate.
APS Fulfillment's Advanced 3PL Software Makes Us Your Perfect 3PL Provider
Your business deserves the best 3PL software to help reduce all the headaches that impair growth. That way, you can focus on what your business does best, leaving the frustrating inventory management obstacles to us.
At APS Fulfillment, Inc., we offer full-service e-commerce fulfillment out of Miami that includes state-of-the-art warehouse management software (WMS), and we make inventory management and goods tracking easy. We'll also support your business and automate the warehousing, prepping, shipping, picking, and packing of your orders!
Get in touch with us and one of our consultants will tailor a fulfillment plan designed to grow your business. Book a consultation by calling (954) 582-7450 or email [email protected].