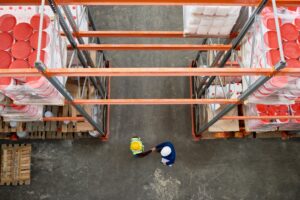 Third-party logistics (3PL) services are growing in both number and applicability. And that makes sense—after all, with e-commerce and direct-to-consumer shipping becoming standard for retailers before COVID-19 entered into our vocabulary, the new world economy has made 3PL fulfillment solutions necessary for any and all retailers.
And like any good business operations, you need key performance indicators (KPI) for shipping and receiving in order to keep your productivity trending in the right direction. KPI for 3PL operations will essentially identify which business operations are efficient and which ones are wasteful, allowing you to iterate on the former while revamping or replacing the latter.

With that in mind, let's take a look at eight KPI for 3PL logistics that can help create efficiencies at your business.
1. Receiving Efficiency
For every moment that a product remains stuck in a receiving area rather than in racks or bins (and thus ready to be picked, packed, and shipped), you're slowing down your shipping process and creating bottlenecks down the line. KPI in this area will help your business understand where the slowdowns are and how they're affecting your overall shipping times—one of the most important aspects of a successful distributor.
2. Dispatch Timeliness/On-Time Shipping
Businesses in direct-to-consumer shipping live and die based on delivery times. Ensuring that packages are shipped in a timely manner and hit deadline is the lifeblood of this business, especially since on-time shipping is one of the most important features for customers these days. Understanding and improving this process is one of the single strongest ways to boost revenue.
3. Shipping Accuracy
Not only do you have to be fast, but you also have to be accurate. After all, hitting your delivery times isn't worth all that much if you're delivering to the wrong destination. Any KPI in this area should show upwards of 99% accuracy, otherwise, your business is losing far too much revenue on these mistaken deliveries.
4. Order Accuracy
Similar to shipping accuracy, you have to also ensure that the right order is getting to the customer. This should also remain at near 100% and involves processes earlier in the operation (opposed to later in the operation, which is where a shipping accuracy KPI comes in). If your business can't accurately process order, you're going to have many more issues within the supply chain.
5. Inventory Accuracy
If your inventory accuracy is off, that can end up impairing your entire business process. After all, if your inventory information isn't up to date, then it's pretty much useless to your business as you can't effectively distribute goods and plan for future inventory needs. This can in turn lead to shortages or an overabundance of specific goods, which takes up space, revenue, and can slow shipping.
6. Return Processing Time
Returns are an unfortunate part of the business but also among the most important 3PL services. A great return policy can separate an industry leader from a failing retailer. In other words, it's become industry standard. In order to keep up with the growth of these services, your business needs to be able to provider timely return services. Many of these goods returned will be in perfectly good condition (depending on your company's policies), which means they can be turned around and quickly shipped out once again. The faster you can either dispose of the return or get it back in stock, the more costs you'll save from what is otherwise a revenue-losing process.
7. Return Rate Due to Shipment Damage
Similar to the above, the rate of return is an arguably more important KPI as it identifies issues in your own processes, rather than quantify the fickle nature of customers. This means that you can't always predict or pre-empt customers wanting to return a perfectly good item for whatever reason (though you can account for it in your planning). But you can certainly control how often goods are being damaged during shipment. Of course, some will simply malfunction and there's no fix for that, but by improving your shipping processes, you can save time and money by reducing the number of damaged items that are sent back.
8. Cost Per Unit Shipped
Every other KPI for 3PL operations on this list is concerned with discrete processes within your logistics management business. A cost per unit shipped, however, is the summation of all your processes and actions that show you an overall picture of how efficient the end result of your business process is. The cost per unit shipped should, ideally, remain static throughout the year, but a few minor fluctuations due to seasonal changes in purchasing habits or unexpected inflation/deflation of demand are acceptable.
APS Fulfillment Inc. Helps to Monitor 3PL Operations
When it comes to 3PL services, metrics will help you understand how to create efficiencies and boost productivity, but nothing can substitute for working with a strong, experienced, proven fulfillment company. And that's exactly what you'll get with APS Fulfillment, Inc.
A 3PL logistics and 3PL fulfillment expert, we deploy industry-leading software systems that optimize the management of your warehouse. While there are many 3PL operations out there, APS Fulfillment, Inc. has the expertise necessary to deliver industry-best services. We take great pride in the fact that our quality control procedures are state-of-the-art, and we guarantee 24-hour turnaround times for our service orders.
We have the tools, knowledge, and resources to relieve you of your shipping burden, so you can get back to growing your business.
Get in touch with us and one of our consultants will tailor a fulfillment plan designed to grow your business. Book a consultation by calling (954) 582-7450 or email [email protected].