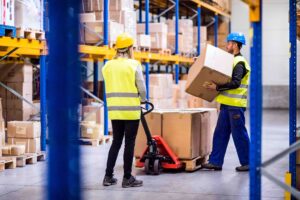 Almost every aspect of our way of life has had to be reconsidered in response to COVID-19. One of the major economic knock-on effects of that shift is the upsetting of the global supply chain.
Before, things zoomed from port to port as part of a globalized supply chain that, when operating well, increased efficiency and margins for producers. E-commerce fulfillment providers are keenly aware of how important the global supply chain is for their business, as getting products on time and shipping them to consumers is crucial. That makes supply chain management more important than ever as we have to respond to these adverse conditions.
With all that said, let's take a deeper look at several aspects of the supply chain crisis, and what that will mean for e-commerce logistics in 2022.
Crisis of the 4Ps in Supply Chain
Products, prices, people, and politics. Those four areas make up the 4Ps, a term coined by Sridhar Tayur, professor of operations management at Carnegie Mellon University's Tepper School of Business. Essentially, what he means by this is that each of these four areas will play a huge role in how the ongoing supply chain crisis plays out.
Product availability will continue to be difficult, especially for semi-conductors or for items that require these components.
Prices of supplies will continue to be high, and inflation is here to stay. Companies will likely have to adjust consumer prices to accommodate for higher supply costs.
People refers to a labor shortage because new (and better) opportunities are attracting existing talent. There is also a shortage of STEM-skilled workers.
Political decisions related to mandates, inflation, multi-national trade policies and immigration will have a sizable impact.
The Impact of Product Unavailability on Customer Loyalty
Let's unpack the "product" segment of the 4Ps. As production continues to be slowed by global supply chain issues, that means that customers that are used to getting goods reliably delivered within 24 hours may be forced to wait longer than they had in the past.
That said, only 21% of consumers are willing to forgive retailers for service disruptions due to COVID-19. That means that e-commerce fulfillment providers are in a difficult spot whereby they have to make those delivery dates to sustain customer loyalty; however, they will likely difficulty meeting these dates due to the supply chain disruption, making supply chain management all the more critical.
Demand for Home Delivery Will Exceed Capacity
With capacity being dampened by the supply chain troubles but demand and market share of retail reaching all-time highs, e-commerce fulfillment companies will have to rely more than ever on creating maximally efficient delivery channels to meet that demand. That means leveraging warehouse management technology, efficient picking, and packing, reliable drivers, and more.
Supply Chain Frauds Will Continue to Rise
Desperate to respond to the challenging obstacles presented by COVID-19, businesses are putting less emphasis on security and risk management in an attempt to survive these trying times. That means that fraudsters, aware of this desperation, are more likely to proliferate.
Shortage Will Lead to Inflation
Inflationary rates hit 6.8% in November, the highest since 1982. This is causing a lot of consternation among consumers as prices continue to rise, with little end in sight. A huge reason we're seeing inflation rise is due to the global supply chain disruption, which in turn means that goods are growing more expensive.
That also means that other costs in your e-commerce fulfillment production chain—gas, labor, products—are also likely to rise. In order to survive with healthy margins intact, businesses will have to adapt to this new reality.
Increased Investment in Logistics & E-Commerce
With all the above at play, it makes sense that businesses will invest more in supply chain and logistics. Considering an e-commerce business is only as strong as its ability to store and ship efficiently in the best of conditions, given these challenging times, it makes perfect sense that businesses would reassess and reinvest in logistics improvements in order to be more readily able to respond to the obstacles presented by the supply chain crisis.
Embracing Technology for Supply Chain Management
Going hand-in-hand with investment, it's a fact that technological improvement presents one of the single best ways to boost efficiency and grow margins. With many e-commerce fulfillment providers unable to stick to their tried-and-true ways of doing things in a pandemic-influenced economic landscape, they'll need to identify new technology that can help them become leaner, faster, and more efficient in order to not only survive, but thrive.
Contact APS Fulfillment, Inc. by calling (954) 582-7450 or email [email protected] today. We can tailor a fulfillment plan designed to grow your business.