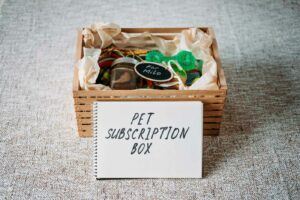 With each passing year, more and more subscription box services appear on the market. That growth is showing no signs of a slowing down either as the market is expected to reach $65 billion by 2027. So, it makes perfect sense that, as this market grows and more box deliveries need to be made month after month, more subscription box fulfillment services would be sought out.
To that end, let's take a look at you can identify the best services for subscription box fulfillment in the USA for your business.
Identify the Goals of Your Business
What are your company's goals? Are you looking to just improve delivery times and reliability with current customers? Or are you seeking to expand into new markets across the U.S.? Do you foresee significant shifts in demand and orders you'll need to fulfill? What are some mistakes to avoid in a subscription box business? These questions will help you identify the size and services you're looking for from a subscription box order fulfillment provider.
Identify the Warehousing Requirements
Once you can generally sketch out the scope of what you'll need in the present and as you grow, you'll be better able to determine your warehousing needs. If you plan on staying local, then you'll only need a few warehouses in your area. But if your plan is to expand into new markets, then you'll require a network of warehouses to support that growth and ensure deliveries reach customers on time.
Determine the Level of Customization Needed in Packaging
Packaging customization can be a great boon to your business in terms of engendering customer loyalty. So, if you want to take advantage of custom packaging, you need to find a provider that offers these services.
Evaluate the Provider's Expertise in Subscription Box Fulfillment
Subscription box fulfillment means your provider will have to consistently hit delivery dates—with so many rival services, you can't afford to be missing shipments. So, you need a company that has the experience and resources to make delivery dates week after week after week, without interruption.
Evaluate Their Customer Support
When there's an issue with a shipment or a change in deliveries or you just want some extra visibility into the shipping process, you need to ensure that your provider has excellent customer support. Without that, you may end up losing customers due to easily fixable issues with shipping going unaddressed because you're having difficulty reaching your provider.
Pick the Service That Can Help You in the Present and the Future
You don't want to have to seek out a new provider every time your operations grow. Instead, you want a partner on your side that is both versatile and large enough to respond to your changing needs as your grow. Whether that simply means higher volume of shipments, or you want to leverage customization options, you'll want to work with a provider that can offer all this and more from the start, even if you don't make use of these services right off the top.
APS Fulfillment's Premier Subscription Box Fulfillment Services
If you want peace of mind that your subscription shipments are reaching your customers on time, every week, then you need a top provider like APS Fulfillment, Inc. With us by your side, you can rest assured that your deliveries will be accurate and on schedule.
We offer subscription box order fulfillment out of Florida, with state-of-the-art warehouse management software (WMS) that makes inventory management and goods tracking easy. We'll also support your business and automate the warehousing, prepping, shipping, picking, and packing of your orders!
With APS Fulfillment's real-time processing, we can confirm your order, have it picked and packed, and shipped with one of our trusted partners, in just 24 hours. Even during this uncertain time, you can count on APS.
Get in touch with us and one of our consultants will tailor a fulfillment plan designed to grow your business. Book a consultation by calling (954) 582-7450 or email [email protected].