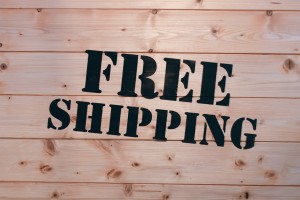 As you know, free shipping has become one of the most sought after and expected additions for consumers when shopping online. While the impact of free shipping on sales can be amazing, some companies don't always have ways to offer free shipping to their customers. E-commerce businesses can generate even more business when they offer free shipping, from encouraging repeat purchases to attracting new clients altogether. Here are a few ways you can implement free shipping into your e-commerce strategy. 
Offer Free Shipping During a Certain Time
What if we told you there was a way to reap the benefits of free shipping without having to actually offer it year-round? Well, there is. By offering free shipping during peak seasons like during the holidays and during big sales, your business can reap the benefits of offering free shipping, like attracting more customers—albeit, for a short period of time.
Free Shipping on Certain Products
This can work to your advantage in a few separate ways. For one, you'll be able to draw customers in with the promise of free shipping. Even if it's on something they don't particular need, what do they have to lose? Free shipping is free shipping, right? Secondly, you can offer free shipping on items that you may have a surplus of, or that are going out-of-season soon, and you need to clear out. This option is mutually beneficial—customers avoid shipping charges, and you can avoid having a backlog of items you're unable to get rid of.
Free Shipping for First-Time Customers Only
Free shipping and successful e-commerce businesses go hand in hand. A big part of maintaining a thriving business is to continually attract new customers, and converting them into loyal ones that will keep on coming back. Customers can be hesitant when purchasing something from a company they've never dealt with before, especially if the purchase will take place online. Offering free shipping to first-time customers is a great way to attract new clients and allow them to try your product without too many reservations. Once they're hooked on your product, they won't think twice about the shipping charges when they re-purchase.
Flat-Rate Shipping
Free shipping can be tough for small businesses to afford, even with certain strategies applied. If you find that it just isn't feasible to offer free shipping, go for the next best thing—flat rate shipping. This will still give customer peace of mind knowing that with each additional item they add to their cart, their shipping charges won't increase. You can also establish a minimum purchase to get flat rate shipping, to give customers that extra little nudge they need to add an accessory (or two) to their cart.
Here at APS Fulfillment, Inc., we thrive on helping small- and medium-sized business offer premium services, so that they can compete with larger competitors. We can help you flawlessly integrate free shipping into your e-commerce business, without breaking the bank. APS handles the order fulfillment services of businesses across the nation, and we'd be glad to use our expertise to help you expand yours. Contact us today to learn more about our fulfillment services, and how we can help you offer customers affordable and/or free shipping options.
Photo Credit: iStock.com/Allexxandar