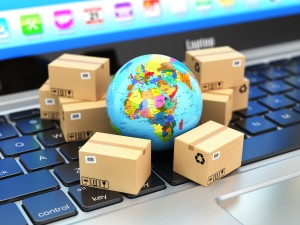 Technology has allowed for dramatic improvements in e-commerce business and enhancements to supply chains and logistics have improved delivery performance for the big-box retailers like Walmart and Amazon. This has caused customers to begin wanting—and in some cases, expecting—a larger number of services when they engage in e-commerce. Meeting these expectations and desires is an excellent way to improve the e-commerce shipping experience, but understanding what to do and how can be tricky. This guide will break down some of the more common expectations among the modern customer, and then offer some e-commerce shipping best practices to help you develop the best shipping solutions and fulfillment.
Getting a delivery within one to three days is a common want found among about 80% to 85% of shoppers. However, only about 55% are willing to pay extra to get this kind of service (free shipping is also quite popular, you see). This can put small- to medium-sized businesses in a bit of a bind. On the one hand, this sort of service does genuinely cost more to offer, but unless those costs can be recouped somehow, the price of your goods will end up rising and turn customers away.
One of the more common shipping fulfillment techniques e-commerce companies used to get around this issue is to put limits or conditions on what qualifies for expedited delivery. Same-day delivery is often only attainable if orders are placed within a certain time and/or within a specific geographic area. Express shipping (and also free shipping) also tends to come with purchase limits that must be met. This way, you can be more assured that you are always able to recoup the shipping costs when speed is desired.
Incidentally, there is also something known as hyper-local shipping, which is when delivery is made within one to three hours rather than days. Given the logistic and employee requirements to pull this off, it may not be a viable option for all businesses. If you can find a way to pull it off, however, (couriers from local stores, for instance?) then you will be able to offer a service that about 60% of customers want, but only 20% of businesses can provide.
Multiple Shipping Options
This ties in to the above point. Customers like choice, and e-commerce customers are no exception. It's also important to remember that people have different schedules and prioritize speed in different ways at different points. Someone who wants one product delivered quickly within three days might later be fine with another item arriving later if it ends up costing less. Being able to anticipate and offer a variety of shipping options means that you will have the ability to meet the largest number of needs. Examples of shipping options to offer include:
Same-day
Express/expedited
Hyper-local
Standard
Collect from store
Collect from locker (or another point)
Weekend/after-hours shipping
Specific Delivery Timeframes
About 78% of businesses offer customers a visible delivery date estimation, which is a shame because a whopping 95% of consumers want this kind of information and 93% want to be kept in the loop by e-mail. This is a demand exceeded only by the desire for online tracking, which stands at 97%. These three expectations all trace back to a central desire to not be left in the dark and wondering. The good news is that it is easy to meet most of these wants without undue hardship on the part of the business. Being able to know where your customer is located is part of the delivery process, and your software should already be able to calculate where the shipment is coming from and what the distance is. It is not much of a leap to take this information, calculate the estimated time/date of arrival, and send off an automated e-mail.
Real-time trackers are a bit harder but still very possible. Whether you want to give a real-time, GPS-based monitor, to chart out the delivery's course and check off each stop, or some other method is up to individual preference and supply. Probably more important than real-time tracking, however, is active notification. A common mistake is to assume that when delays occur, customers will look at the tracker, see the delay, and understand what's going on. Not all customers use trackers, though, and they shouldn't be expected to. Using e-mail and text messages to not only explain the estimated delivery date but to also keep customers abreast of developments in their order is a handy e-commerce shipping solution that will keep customers happy by reducing uncertainty.
E-commerce has a higher return rate than retail for the simple reason that customers do not get any physical interaction with the product at the time of purchase. They can't feel it in their hands, try it on in a dressing room, or judge the size and style except by the pictures on your site. Consequently, it is not uncommon for what arrives to simply not meet what was imagined and for a return to be desired. Having a clear, easy-to-follow, and lenient returns policy will be a big benefit to these individuals. While cut-offs for when you will accept a product back are understandable, they should leave enough room for a customer to experience a bit of the product beforehand. Ideally, your returns policy will cover the cost of shipping the product back and be available either by direct mail or by bringing the product to a retail location.
In addition to improving customer satisfaction after the fact, a good returns policy can help encourage initial purchases. After all, the fear of buyer's remorse can be a powerful deterrent. If a customer is unsure of whether what they want is actually what they'll get, then they might look elsewhere. In the best case, this means buying a different product from you. In the worst, it means shopping cart abandonment as they turn to other businesses entirely. A good, visible returns policy can give these uncertain customers the confidence and assurance they need to follow through.
One of the most common shipping expectations from customers who shop online is free shipping. Almost all savvy online shoppers expect to see some type of free shipping option at checkout; research has shown that the lack of free shipping can actually discourage customers from completing their purchase. E-commerce companies usually offer a free shipping option if the consumer spends over a certain amount or a flat rate if their purchase is under the specified limit before taxes. Other companies offer free shipping no matter the order size, or even a free shipping upgrade from ground to two-day. Online stores also use limited time premium shipping options to raise traffic and encourage sales—for example, a shop may offer free shipping on Black Friday only to compete with other retailers and drive sales forward.
Delivery Updates
Many customers feel that being able to track their package is absolutely necessary when making an online purchase. The majority of online shoppers believe that the retailer's web site should allow them to track their shipment or there should be an option to receive delivery updates when their shipment is in transit and delivered. When retailers provide customers with a tracking number once their order has been shipped, it's been proven that consumers actually become more patient; when consumers are able to see the location of their package and follow its progress, research has shown that they're willing to wait about a week for delivery. When customers are unaware of where their package is and have no idea when to expect it, they become impatient.
Transparency
One of the best e-commerce shipping practices that online retailers can assume is transparency. Consumers won't react well to being presented with one cost while shopping, only to find out that they'll have to pay unexpected fees upon checkout. A simple e-commerce shipping solution for this is to just be upfront about taxes, duties, and whatever else may factor into the final cost— you may think that this tactic will discourage customers from purchasing items from your online store, but customers will appreciate not having wasting their time picking out something that they realistically can't afford.
Quick Refund
Fast and easy refunds aren't just an extra advantage for online shoppers; they have now become a general expectation. When purchasing items online, consumers want to have the peace of mind that they'll be able to return it without a hassle should it not meet their expectations when it arrives. This has become such common e-commerce shipping expectation, in fact, that if your company doesn't advertise or offer "hassle-free returns," some may question the integrity of your brand or products.
Look to APS Fulfillment for Enhanced e-Commerce Shipping Solutions
APS Fulfillment, Inc. is a specialist in direct mail marketing and warehouse fulfillment based in Miami, Florida. We've stored, sorted, and delivered products of all shapes and sizes for all kinds of companies and are more than prepared for the exciting challenges waiting in the new year. Contact us by phone at 954-582-7450 or by email at [email protected] for more ways third-party warehousing and fulfillment services can support and grow your business.