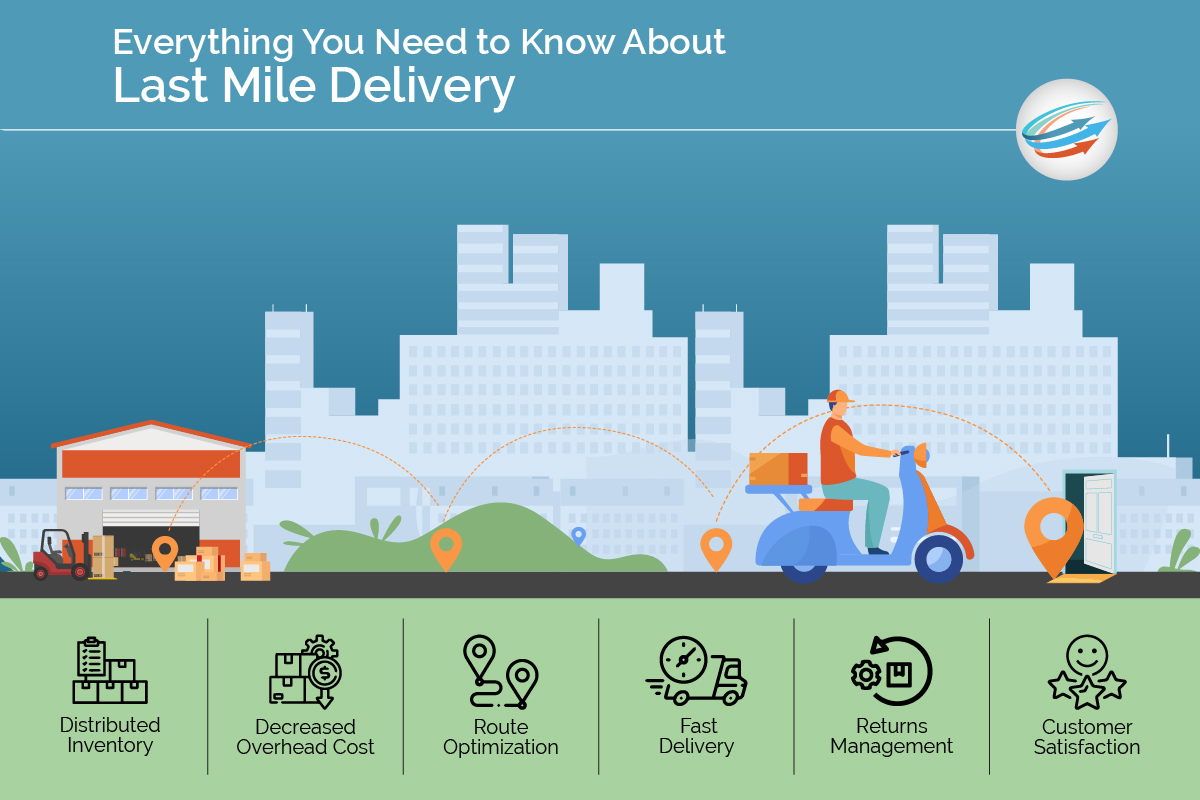 The last mile of a product's journey from the supplier to the customer is often seen as the most critical. After all, it's the final stage in getting the product into the hands of the consumer. That's why e-commerce businesses need to carefully consider their last mile delivery solutions. In this blog post, we'll take a look at everything you need to know about last mile delivery, from its challenges to its benefits. By understanding all aspects of this complex process, you can make sure that your business is using the best possible solution for your customers.
What Is Last Mile Delivery?
Last mile delivery is a term used to describe the process of delivering a product directly to its customer's door. It helps businesses reach their customers quickly and efficiently by delivering exactly what they are looking for in an efficient and secure manner. Last mile delivery is critical in today's e-commerce world, since it helps minimize long delivery times, unsatisfied customers, and costly returns.
Last mile delivery has become even more important than ever due to the rise of online ordering during the pandemic and increased consumer demand for speedy home delivery. Last mile delivery logistics have become increasingly essential in providing better customer experiences with efficient delivery solutions that can meet the needs of all consumers including those located in rural areas.
What Are Some Challenges with Last-Mile Delivery?
Last-mile delivery is a critical element that faces a number of challenges in order to ensure customer satisfaction. Below are a few of the main challenges with this delivery system.
Cost: Above all, cost is an issue as the expense of moving goods from distribution centers to their final destination is often highly expensive. As such, finding ways to reduce these expenses without sacrificing efficiency or quality can be difficult for many businesses.
Efficiency: This is a major factor that retailers have to consider with last-mile delivery. There are only so many packages that can be delivered at any given time and for these services to remain competitive, there needs to be a certain level of consistency in both speed and cost.
Transparency: The complexity of last mile delivery requires transparency throughout the process—from pick-up to drop-off—so that any issues encountered along the way can be quickly resolved. This transparency helps provide greater visibility into the product's journey and ensures customers know exactly what to expect from their delivery experience.
How Does Partnering with a 3PL Help with Last Mile Delivery?
Partnering with a third-party logistics provider (3PL) can be an effective solution for businesses looking to optimize their last mile delivery services. Here's why:
Distributed Inventory: By entrusting a 3PL provider with distributed inventory, companies will be able to efficiently predict demand to ensure supply and avoid unwanted shortages. Additionally, by integrating the technology of the 3PL provider into their business operations, businesses will gain visibility into their inventory and have more accurate tracking of any order shipped to customers.
Decreased Overhead Costs: Business owners won't need to pay extra for leasing warehouses, hiring drivers, purchasing vehicles, or carrying hefty insurance policies when they work with a 3PL provider. These cost savings can add up quickly and be passed along to customers in the form of lower delivery rates and improved delivery times.
Route Optimization: With sophisticated route optimization software, businesses gain access to strategies that help them to reduce transportation and delivery costs. Route optimization employs complex algorithms to generate automated routes that better utilize resources such as vehicle capacity, labor hours and navigation restrictions.
Returns Management: A great way to streamline the process of returns and significantly reduce associated headaches is by incorporating a third-party logistics (3PL) provider into the mix. A 3PL can help manage customer support, monitor customer inventory levels and track product returns with exceptional accuracy and timeliness.
Contact APS Fulfilment Inc. for the Best 3PL Solutions
If you need efficient, cost-effective and reliable third-party logistics (3PL) solutions, contact APS Fulfilment Inc. With decades of combined experience providing these services to the industry, we have developed disciplined processes that guarantee an unmatched level of satisfaction to our clients. In addition to a providing wide range of 3PL services that include warehousing and delivery as well as order management and tracking, we also offer technological advantages and quick response times. Get in touch to take advantage of APS Fulfillment's end-to-end fulfillment services.