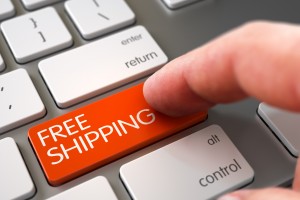 Free shipping has become an expectation from online shoppers, rather than the bonus it once was. Offering free shipping options can be advantageous for your business, but there are certain things you'll need to keep in mind when implementing it—things like the cost of free shipping, free shipping conversion rates, and how to advertise your free shipping all play a part in how valuable it ends up being for your business. The benefits of free shipping can be immense, but owners need to assess all of the associated risks and ensure they introduce it to their e-commerce business appropriately. Check out these common mistakes, and make sure you avoid them when offering free shipping.
Using Free Shipping as the Best Promotional Offer
It's true that free shipping can be used as a promotional offer to help boost sales, but you should also acknowledge that there are other promotions that can help you even more. Free shipping shouldn't be the one tactic you rely on to drive sales; try out other types of promotions like "buy one, get one free" or 20% off your entire order to see what works best. You can even try giving customers a choice between free shipping and another offer, to see which is more popular.
Offering Free Shipping during All Seasons
Small businesses often make the mistake of offering shipping year-round, which can end up costing you. Use your free shipping as a limited time, promotional offer to encourage sales during a lull, or when you don't have any other offers available.
Setting Your Minimum Qualifying Purchase Price Too High
Be sure to calculate your free shipping threshold, and stick to it. While shipping small dollar amount orders can eat way at your profits, it can also be detrimental to set minimum purchase prices too high. A good way to calculate your free shipping threshold is to figure out your average order size, and make your minimum 10%- 15% higher to encourage customers to throw in an extra item or two. For example, if your average order size is $50, it'd be unrealistic and counter-intuitive to make your minimum $200—not many people will be willing to quadruple their order size just to take advantage of free shipping.
Not Understanding Costs of Free Shipping
Free shipping is only free for the customer, which means it costs you. Before you begin offering free shipping for your e-commerce business, evaluate how much free shipping will cost you in the end. Depending on the size of your business and the volume of orders you receive, it may not be worth it. In many cases, companies establish a minimum purchase for free shipping, to ensure that their costs are sufficiently covered. Either way, it's extremely important to assess the costs of free shipping before you begin offering it.
APS Fulfillment, Inc. can help you flawlessly integrate free shipping into your e-commerce business. We handle the order fulfillment services of small- and medium-sized businesses across the nation, and would be glad to use our expertise to help you expand yours. Contact us today to learn more about our fulfillment services, and how we can help you offer customers cost-effective and free shipping options.