Between the explosion of e-commerce platforms and COVID-19 making shopping-from-home more attractive than ever before, online sales are up. And one of the biggest beneficiaries of this situation is Etsy—it processed $10.28 billion in sales in 2020, more than doubling its 2019 numbers. For businesses looking to compete on Etsy while also boosting their margins, they're turning to APS Fulfillment, Inc. 
Juggling your Etsy, eBay, Shopify, WooCommerce, Amazon, etc., sales can be an unnecessary burden on your business. But with APS Fulfillment as your third-party fulfillment (3PL) partner, we will significantly reduce the management burden while fattening margins through our best practices and leading technology—all while handling your picking, packing, and shipping processes! 
Let's take a deeper look at how Etsy order fulfillment works, so you can better determine if third-party order fulfillment for Etsy is right for your business.
How Does Etsy Fulfillment Work when Provided by APS?
As your Etsy third-party fulfillment partner, we will seamlessly integrate into your current system. We'll ensure that your orders will flow through our centralized system, enter the queue, and ship out before 1:00 p.m. on the same day. 
Our centralized system updates inventory on both ends and tracks the shipment, so both you and your customer have full access to the most up-to-date information.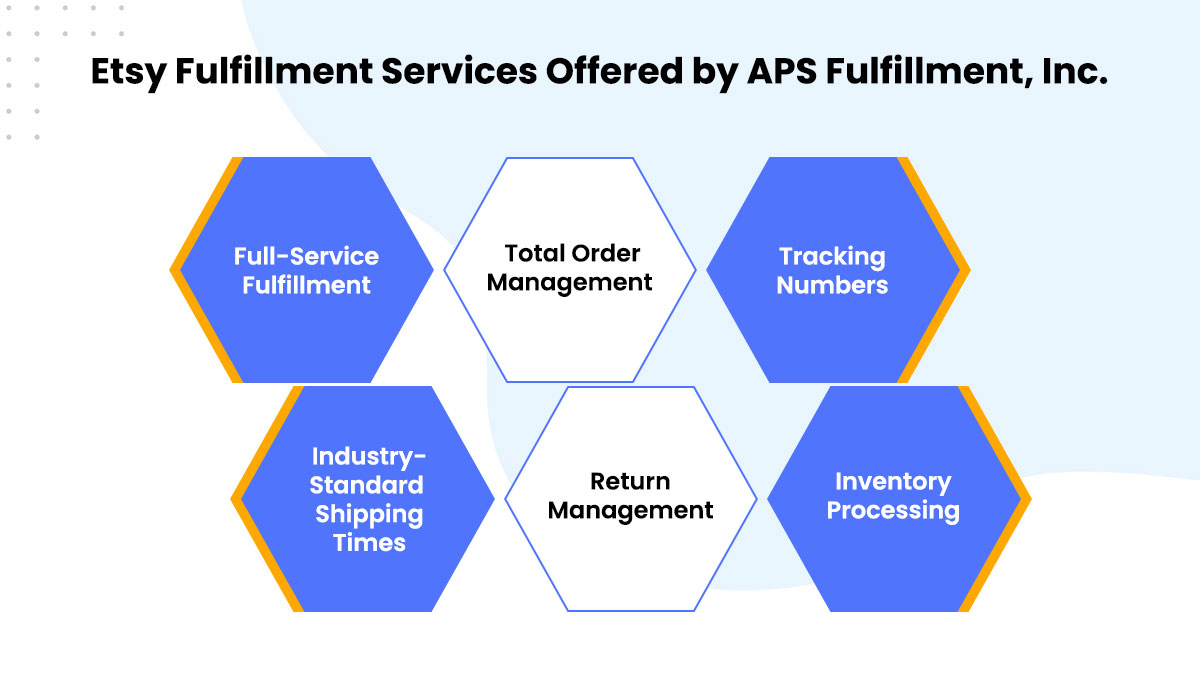 Integrate with the Etsy Platform
Our staff will walk you through a simple API connection, performing a full Etsy integration into our system and yours, ensuring all your orders are smoothly and accurately processed by APS Fulfilment, Inc.
Use the APS Warehouse for Fulfillment
If you're operating on Etsy as a small business, it would be inefficient and expensive to run your own warehouse. That involves renting space, managing inventory, dealing with any storage complications/errors, etc. But our top-of-the-line warehouses are designed to easily receive orders, pick, pack, ship said orders, and keep it all updated in both yours and our inventory systems.
What's more, this is the same process for all other major e-commerce platforms, so the process is uniform, cost-effective, and simple across the board.
Ship Out from the APS Fulfillment Center
Our premier shipping services ensure that the package is tracked and delivered on time. It's one of the many benefits you'll receive with third-party order fulfillment for Etsy support from APS Fulfillment.
Why Outsource Etsy Shipping and Fulfillment to APS Fulfillment?
Put an end to your fulfillment headaches and focus instead on growing your business. We save you time and money, all while helping to boost margins through more efficient fulfillment processes.
Put an end to your fulfillment headaches and focus instead on growing your business. We save you time and money, all while helping to boost margins through more efficient fulfillment processes.
Simple Etsy Integration
With Etsy third-party fulfillment from APS, you'll get all the support you need during the integration process. That way, you can quickly harness all the benefits of an elite 3PL provider on your side without friction, roadblocks, or complications. 
Automated Fulfillment
Our entire order processing system is automated so that you minimize the chance of shipping or storing errors, saving your business time, money, and frustrations.
Branded Packaging
Branded packaging can help induce customer loyalty and encourage repeat buying, as well as help spread brand awareness. And you can get all that with our branded packaging support.
Real-Time Inventory Management Software
We use industry-leading software that ensures that your inventory is always updated. This reduces the threat of errors and ensures you always have all the data you need to make informed decisions.
Dedicated Account Manager
You won't have to deal with a variety of people, having to re-explain how your business operates each time. Instead, you'll have a dedicated account manager that serves as your point-person when dealing with APS, ensuring fast resolution of any issue.
Faster Shipping
Benefit from shipping times that are at or above industry-standards, giving you a competitive edge over rivals.
Warehousing Facility
Benefit from our network of warehouses with third-party Etsy fulfillment out of Florida.
Outsource Etsy Fulfillment to APS Fulfilment, Inc.
If you are looking for a fulfillment partner that can take care of your Etsy orders, look no further than APS Fulfillment, Inc. We have the experience and expertise to handle your order volume while you focus on growing your business.
Our 3PL for Etsy out of Miami ensures that you have access to a wider range of customers, can more effectively meet their order demands, and can be totally relieved of the managerial burden of storing, picking, packing, and shipping those orders.
Find out more about how we can provide Etsy third-party fulfillment services that your business can leverage to help it thrive and grow.
Contact us today by calling (954) 582-7450 or email [email protected] to learn more. We can tailor a fulfillment plan designed to grow your business.