With Amazon set to account for over 50% of the e-commerce market, your company needs to have some presence on Amazon to stay competitive. 
But shipping via Amazon can significantly decrease your margins through a variety of fees and charges. That's why many businesses are opting for Fulfillment by Merchant (FBM) shipping instead, which allows them to maintain total control over storage, shipping, and customer support. 
While this method certainly has its benefits, it can also be difficult to manage on your own. But with Amazon FBM third-party fulfillment support, you can both avoid Amazon's typically punishing fees without being overwhelmed by your storage and shipping demands. 
APS Fulfillment, Inc. is a leading third-party logistics (3PL) provider. We offer 3PL for Amazon sellers in Miami and across the U.S., combining industry best practices and leading technology to optimize your storage, shipping, and customer support.
How Does FBM Work at APS Fulfillment?
We've honed our shipping process to be hyper-efficient and free from waste and bloat, meaning you'll end up saving money and time on your orders while also boosting margins.
How do we do this? Our Amazon third-party fulfillment process involves:
The order is placed on Amazon by the customer
APS collects the order
We manage the picking and packing of the order
The order is shipped
Tracking is sent to Amazon and inventory is synced with our top-of-the-line warehouse management system (WMS)
Unlike a third-party seller fulfilled by Amazon, we provide elite-level services without causing your order budget to inflate.
This streamlined process facilitates your entire order process, while simultaneously ensuring that fewer shipping issues occur (inaccurate shipping destinations, lost inventory, missed delivery dates, etc.).
Let's take a deeper dive into how we can guarantee such quality and results.
Integrate with Amazon Platform
As an Amazon third-party fulfillment expert, we work to remove any and all friction in the ordering and shipping process. We accomplish this by integrating directly into the backend of the Amazon marketplace, so orders are processed directly through to our system.
Leverage State-of-the-Art APS Warehouses for Fulfillment
Amazon third-party fulfillment helps reduce your overhead by eliminating the costs associated with storage with Amazon when doing fulfillment by Amazon (FBA). In other words, where you'd normally have to pay for your own inventory storage and Amazon's storage prices, you can eliminate the dual costs while also streamlining your shipping processes via our advanced warehouses and WMS.
Ship Out from APS's Fulfillment Center
Our shipping practices follow all Amazon guidelines and include a packing slip. We also provide tracking services that notify you and the customer when the order has shipped and provide updates on its progress, reducing customer support burdens.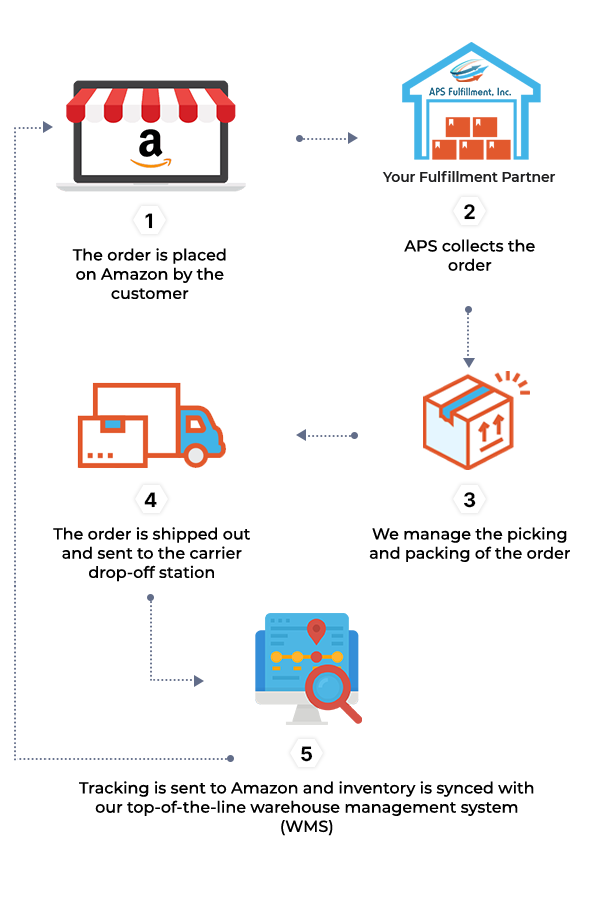 FBM Services Offered by APS Fulfillment
As a leading Amazon FBM third-party fulfillment provider, APS Fulfillment can offer your business many benefits thanks to our high-quality services.
Essentially, you'll get many of the services you'd otherwise benefit from at Amazon, but at a reduced cost.
What's more, unlike Amazon which serves thousands and thousands of clients, we are hyper-focused on your success. Instead of having to battle through a half-dozen email chains and several departments until finally being able to reach someone, APS will never be more than a phone call or email away.
Why Outsource Amazon Shipping and Fulfillment to APS Fulfillment?
Outsourcing your Amazon FBM to a third-party fulfillment provider yields a variety of boons for your business.
You get a higher level of control and direct contact with your warehouse management, all while reducing overall costs and avoiding the dual cost of having to pay for storage on your end and Amazon's end.
What else will you get with APS as your third-party seller fulfilled by Amazon support provider?
Outsource FBM Fulfillment to APS Fulfillment, Inc.
If you're looking for a third-party Amazon fulfillment provider in Florida or anywhere else in the U.S., then APS Fulfillment, Inc. is your top choice. 
Benefit from leading technology, excellent customer service, years of experience in order fulfillment, a dedicated team of professionals, and more with APS Fulfillment on your side. 
Contact us by calling (954) 582-7450 or email [email protected] today. We can tailor a fulfillment plan designed to grow your business.