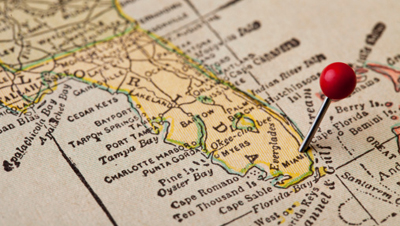 Follow the Money
There's always the notion that with the smarts and know-how, you can do any kind of business anywhere—or rather, you can actually do really successful business anywhere. Making a business work is tough, but making it successful is another matter altogether.
This is a pretty decent theory to have, and it should be true: you ought to be able to do what you want well anywhere, be it a desert, arctic tundra, or some old residential area—anywhere you see fit. Alas, life is seldom so fair, and where you are located can make or break your business' success in a big way.
With product fulfillment, you are dealing with what economic geographers call an "agglomeration economy." This occurs when where's a concentration of a bunch of seemingly unrelated businesses in one area that are all fueling one grand business, either directly or indirectly. If you think of a major factory, logging camp, or dock port, all of the stores, schools, and restaurants cater to the workers and families of those industries; this is an agglomeration economy in its purest form.
Product fulfillment is no different. With all the direct marketing, printing, and product ordering, you can bet there is a place product fulfillment pros gravitate towards to either engage new clients or make contacts with people in their industry. This might not be well-known to the masses, but it's there. 
Southern Comfort
Curiously, this hub of product fulfillment is not in the major centers like Manhattan, Los Angeles, or even Seattle. If you asked anyone where they thought the product fulfillment industry was based out of, they might come up with Chicago or even Honolulu as an idea. But it's none of them—you have to look further south.
Florida has become the real hub for product fulfillment pros, both to base their business out of or to outsource to for specific services. The best direct marketing companies have gravitated there due to its peninsula location, where they can absorb businesses, both domestically and from international sources. The businesses there engaged in product fulfillment are pretty competitive, too. They don't want to do the best product fulfillment or be the best direct marketing company in Florida—they want to be the best the world over!
This means a lot for people in the industry. Tired of regular fulfillment services giving you less-than-stellar results? Try finding the best direct marketing company in Florida. Has your regular on-demand print resource fallen out? There are some of the best on-demand printing services in Florida that can deliver your printing needs for dirt cheap prices, no matter what city you are based out of. And if they can't help you, they will most certainly put you in touch with someone who can. 
Self-Promotion of the Good Kind
But then, why go searching someone to help you out when, well, we can! APS Fulfillment, Inc (APS) is a direct mailing service based out of Florida, with a time-honed reputation that wants to help you out with whatever product fulfillment service needs you have. We've got the location, the skill set, and the know-how to successfully deliver product fulfillment services from an area where you have to know the industry more than anywhere else globally.
If this sounds like self-promotion, it is. It's not to boast at all, though: APS wants to help you with all of your product fulfillment needs, and thanks to our location-based expertise, we are confident we can. If product fulfillment is all about where you are and the skills you've gained there, APS is out to be the number one option for you down south!
Need solutions to your product fulfillment problems? APS Fulfillment, Inc has the knowledge and services to make your direct mail and product fulfillment ventures more successful. Contact APS Fulfillment, Inc by e-mail at [email protected], visit their web site at www.apsfulfillment.com, or call them at (954) 582-7450.