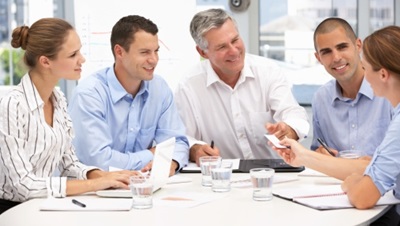 Linking Together
There's nothing better than being in control of your own business. These days, there are all kinds of stories of people being able to work on their own to great success, often as lone wolves in their living rooms with only a laptop and Internet connection. Technology and new business practices have brought about new ways of doing business that didn't exist before, often with as little human interaction as possible.
This methodology is good for a lot of people, and if one can swing it, it's great to take advantage of. However, most businesses today still require human contact in order to create success; in short, people still need people.
Often, business pros get scared when they hear the terms "networking" or "interacting." They fear they don't have the right people skills or business communication abilities to deal with others, and worry that these assumed handicaps will bury their business. There's no question that it's tough to meet good associates, so this fear is legitimate.
However, the linking together of business pros for success is easier than one might think, especially in product fulfillment. Product fulfillment is one of those businesses that need all sorts of people to do different jobs. As a result, the ability to put one foot forward and make business connections in product fulfillment is not too hard at all; it just takes some application and tact.
Pounding the Pavement
Making connections in product fulfillment is sort of like business-to-business, or B2B direct marketing: you are putting yourself forward to present your skill set to your peers, and it's how you put yourself forward that matters most.
For starters, you should research yourself a bit. You might be establishing a product fulfillment business that specializes in oversized products, and you have experience with that particular niche market. Or perhaps you've been working for logistic companies, in which case that is your main strength in the product fulfillment industry and how you'd want to label yourself. When contacting others, treat it like a graduate with a fully stocked resume seeking a job.
Knowing the right connections you want to make is worth investing research time in as well. For example, you might be a product fulfillment mailing service that requires a distribution warehouse that can supply and store your products. Doing up a list of who you want to contact will help you create a specific network of people you'll want to work with.
Lastly, there's the matter of pounding the pavement and putting yourself in the right places or situations—ones where you can make contacts in a friendly and even fun way. Today, social media web sites can be good options, especially the more professional ones, like LinkedIn. However, big events like industry conventions and professional networking conferences are the ideal situations: you can meet others, exchange business cards and information, and even go out for a meal to discuss matters over good food and drinks.
Scouting Out More
It's one thing to create a business network, but it's another to maintain one—the latter is the key factor. Regular communication between your network contacts can help remind others of your skills and interests and whet their appetites to work with you. A lot of the direct mail marketing services in Florida spend a lot of money and time dealing with their colleagues, both in the vicinity and outside it, to keep associates keen on more business opportunities. You might not have to go that big, but scouting out more opportunities and maintaining close ties with your existing ones is how you create a product fulfillment business network that can be a source of assistance, influence, and financial rewards all throughout your product fulfillment career.
Need solutions to your product fulfillment problems? APS Fulfillment, Inc has the knowledge and services to make your direct mail and product fulfillment ventures more successful. Contact APS Fulfillment, Inc by e-mail at [email protected], visit their web site at www.apsfulfillment.com, or phone at (954) 582-7450.