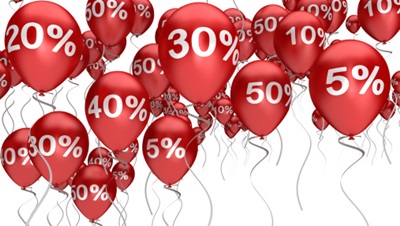 It's Hot
Buy-one-get-one-free, 20% off, clearances, coupons, limited-time offers…the world is full of deals and associated jargon. The language itself is so enticing; the hot deals are there, but not forever. Maybe you really do need to act now!
Product fulfillment pros have a bit of a dilemma. They often get comments from clients about how customers would buy more products if some sort of sale was in effect. It's the classic bargain-hunting scenario, but also a worthwhile consideration. Product fulfillment pros are consumers, too, so they understand the value of a good deal as much as anyone.
But there're the profit margins and the paying of bills to consider, as well as the need to maximize revenues. Wanting a deal is one thing, but being able to effectively offer one is another matter altogether, no matter how much pressure clients put on you. That said, it can be done.
Product fulfillment pros can find the right methods to offer deals with the right planning and a little elbow grease. Done properly, they can even generate more business. If the deals are hot enough and done at the right moment, it can be a positive for both their product fulfillment business and its clients.
Time and Place
If you think about the big companies that offer deals regularly, they factor both time and place into their deals, such as daily value meals from McDonald's. This is a fairly good model to follow, as product fulfillment pros need to keep both in mind when offering deals.
The time of the year needs to be considered. Even if you're not a product fulfillment veteran yet, you probably know about business rushes. Order fulfillment services must give consideration to these periods that often see spikes in consumer commerce, such as Hanukkah, Valentine's Day, and especially Christmas. You'll probably see a rush at those times yourself, making them a good time to offer deals. You're moving a lot of product and can afford to offer deals, potentially moving even more.
Place in product fulfillment refers to where you offer the deals, though it's more about who you offer them to. If you've built up a roster of direct marketing leads and want to bring them in as new clients, a little deal can go a long way, even if only a small discount. You might be doing a bit of kitting services or working with package products; these can allow you to throw in a free item to the client or offer extra package products at a reduced rate. Clients, depending on their age, location, and field often need some motivation to buy what they otherwise wouldn't; offering the right promo can provide such motivation.
For Yourself
Without sounding too greedy, it's worthwhile to also look for deals for yourself. In a sense, you can do both simultaneously. If you're doing a little business-to-business direct marketing, you stand to get further with other pros by offering them a discount on your services, which may lead to them returning the favor later. If you check your product providers or warehouse distribution centers, you might start to notice some places where you can either acquire more products at a reduced rate or receive a deal in exchange for offering your own discount in return.
That's a lot of bargains. It's all a bit of a hassle, but if you're interested in offering product fulfillment deals, you can still obtain some savings for yourself, too.
Need solutions to your product fulfillment problems? APS Fulfillment, Inc has the knowledge and services to make your direct mail and product fulfillment ventures more successful. Contact APS Fulfillment, Inc by e-mail at [email protected], visit their web site at www.apsfulfillment.com, or phone at (954) 582-7450.