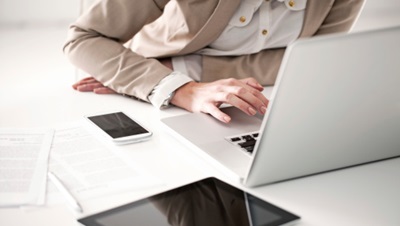 The Closest Screen
Quick, what's your favorite sci-fi movie? Obviously something with Wookies or Klingons comes to mind, but how about some of the less-remembered films, like Johnny Mnemonic, Cube, and The Lawnmower Man? Many felt these films to be of poor quality, which is why they've failed to garner mainstream popularity.
However, it's interesting to go back and look at these movies in the context of today's technology. Many such films often featured—you might even say predicted—touchscreens and other current technology before their real-world usage.
To say we live in a very sci-fi world is not much of a stretch. Just seeing kids play interactive games or people hammering away on their smartphones' touchscreens for everything from work to shopping is pretty wild. Looking back, could we have seen ourselves living like this even a decade ago? Probably not.
With all these programs and services influenced by screens, videos, and touch technology, it's fair to say that people need to learn them as quickly as possible. For pros working in fields like product fulfillment, it's worth investigating how much new technology can possibly better their business. There's a lot that can be taken advantage of and utilized to improve a product fulfillment business' functionality and success.
By Your Side
You've likely seen a lot of business pros working seemingly effortlessly from their tablet or smartphone from wherever they are. They claim they can do it all from the palm of their hand, regardless of where they are, and if that's true, why should they have all the fun?
You can get in on it by getting as much digital gear as you can and creating your own digital printing company within your business. This will allow you to perform tasks from a single workstation and save a lot of time and money on print material services. If you or others need material printed off quickly, your own digital on-demand printing services can get the job done quickly.
You might prefer to use the older style of receiving, filling, and mailing mail orders; there's nothing wrong with that, but it can be pretty slow. Having a fully digitized order fulfillment center where clients can order products directly off your web site can boost business speeds greatly and profit turnovers even more.
Remote Control
If you've ever watched a TED talk or been to a conference where the presenter is controlling their presentation with a smartphone or tablet, you know how impressive that can be. You can do it, too: apps that enable you to initiate on-demand printing services, do logistics management using a digital map, and/or keep tabs on your warehouse's security from afar are all available to you.
If these high-tech operations sound appealing to you, get to your nearest smartphone or tablet provider and pick a knowledgeable staffer's brain as to what is necessary to get these mechanisms hooked up. It's beyond convenient to have access to these tools, especially if you have a family emergency or have to attend to some business away from home. You can operate them like a remote control and keep tabs on your business from nearly anywhere in the world.
Need solutions to your product fulfillment problems? APS Fulfillment, Inc has the knowledge and services to make your direct mail and product fulfillment ventures more successful. Contact APS Fulfillment, Inc by e-mail at [email protected], visit their web site at www.apsfulfillment.com, or phone at (954) 582-7450.