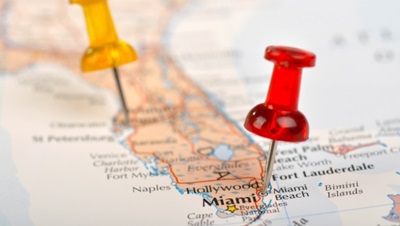 Agglomeration Economies
When we think of common business trends, location is hard to ignore. Movies in Hollywood, technology in Seoul, oil in Calgary—these places are practically defined by the industries that have formed there. It's often unthinkable to imagine those areas in any other light besides what economies are based out of them.
There's a necessity to be hip to this, too. A collection of businesses around a particular location-specific industry means that there is saturation, resources, and/or business interests there that can help companies related to that industry flourish even more, both internally and externally. Having insight and, even better, connections to that particular area means getting in on the good deals, meeting like-minded people, and achieving real business success over the long term. It's how pros help pros.
In product fulfillment, there are several smaller business hubs scattered globally. But if you are serious about getting interested in the center of the industry itself, it's time to head south of the Chattahoochee River and into the long state that covers the Gulf of Mexico and the Atlantic and has a view out to the Caribbean: Florida. Product fulfillment is rich there, and it's the real agglomeration economy for product fulfillment pros, services, and businesses.
The interesting thing with Florida and your product fulfillment business is that you don't have to physically be there in order to be in on the action. Thanks to modern technology-based business practices, you have a lot of processes at your disposal to become part of the product fulfillment industry in Florida. However, there are some guidelines you should follow before you get involved.
Pick and Choose
The intricacies of the Florida product fulfillment industry are vast and connected, so it's good to know what you want before you start accessing them. You might be looking for some of those famous direct marketing Florida pros that can beef up your direct marketing material so it looks really great, or may want to make connections with some on-demand printing services in Florida that can produce the print material you need cheaper than your regular supplier. It's good to do a bit of planning and know what you want beforehand.
From there, get the communication going. Make some calls or shoot some e-mails or if you can afford to head there for a convention or business meeting, do so. You might be surprised at the connections you can make. However, just doing some over-the-phone or online communication can often be enough.
Given its location and being surrounded by water, it's worth noting that Florida has advantages regarding certain segments of the product fulfillment industry over any other place. With so many sea transportation options, it's no chore at all to find a good logistics company in Florida that can help you with shipping, receiving, and government tips for your goods-to-client services. Going back to an earlier note, with all of the centralized activity, it's also no challenge to find a skilled direct marketing Florida-based firm. In fact, it's so easy that you ought to shop around to find the best one you can; be warned, though, there are many.
Easy to Find
As mentioned earlier, today's digital technology has made accessing Florida's product fulfillment services easier than ever. Need to find the right Florida-based product fulfillment services for you? Go with Google. By just inputting keywords like "assembly services Miami" or "fulfillment service Florida" into your search engine, you can access the best product fulfillment services and shop around for the ones you need. It's all easy to find.
In the end, that's the great thing about working with Florida-based product fulfillment pros. It's a snap with real success dividends. You can do it quick and easy, get involved with great people, save a ton of money, and really be a part of something great.
Need solutions to your product fulfillment problems? APS Fulfillment, Inc has the knowledge and services to make your direct mail and product fulfillment ventures more successful. Contact APS Fulfillment, Inc by e-mail at [email protected], visit their web site at www.apsfulfillment.com, or phone at (954) 582-7450.