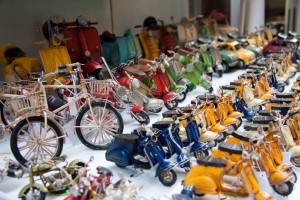 Product fulfillment services overall is a difficult industry, but the toy and game industry is an especially tough market. Several factors are against its success; the most prominent of which being the declining world birth rate, and the shift from children playing with physical toys to now being in the digital space.
Despite these challenges, the toy and game industry continues to grow and experts believe the industry will keep growing up until at least 2018. The key for toys and games fulfillment is an experienced logistics company who can manage the nuances of shipping to both B2B and B2C customers within this industry.
How Our Toy Fulfillment Centers Help Toy Companies
There are many ways that APS Fulfillment, Inc. can help toy companies better accomplish its logistics goals.
Kitting
It's important for a 3PL to be able to quickly pick and pack the right products especially considering toys are often shipped in groups. We make sure accuracy isn't lost in the speed of our kitting.
Inventory Storage
The toy and game industry is heavily seasonal. We are able to scale inventory for our clients at a low cost and have you prepared for the spurts in sales that comes with particular seasons.
Order Processing
An important aspect when it comes to managing your orders. APS Fulfillment, Inc. is skilled at utilizing technology and processing orders from multiple sources so your customers are always getting the right products on time.
Pick-and-Pack Fulfillment
We do this quickly and with high accuracy. Efficient picking and packing reduces customer returns and increases customer satisfaction.
Product Shipping
Getting your product from point A to point B is what product fulfillment services are all about. You need a dynamic system that is capable of handling all points of this process. APS Fulfillment, Inc. knows how to get this done.
Domestic and International Fulfillment
Shipping products internationally is not a simple process. It takes a logistics team with extensive knowledge of customs in those regions, along with the capacity to track packages for the duration of their being moved.
Customer Returns and Management
Handling customer returns are a hassle but a necessary part of e-commerce or any form of retail for that matter. Without a proper system for inventory and for promptly getting the customer the right product, then returns can quickly turn into a mess costing businesses revenue while losing customer's trust.
Customize and Maintain Control of Your Branding
The quality of shipping toys or other product on time and in sound condition is as much a part of your company's brand as the product itself. Customers will not respond well if the logistics part of your process is poor, and will likely move to a competitor.
Contact Our Toy and Game Fulfillment Center in Florida
APS Fulfillment, Inc. is ideally located in Florida, a known shipping hub able to move products locally and internationally at an efficient pace. Contact us today to learn more about our product fulfillment services and how we can help your business.