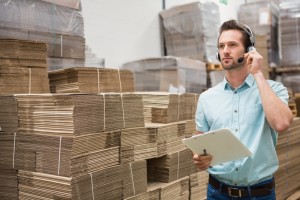 Whether you're just starting your e-commerce business or are experiencing growth and are ready to expand, outsourcing your e-fulfillment services is a must. So long as your business is shipping physical products, it will need to incorporate a comprehensive system for effectively shipping the product to the end user.
Considering a 3PL Provider
Third-party logistics (3PL) companies have evolved greatly. They now offer much more than just inventory storage and pick & pack services. They are able to integrate your e-commerce system to streamline the process of delivering products to the right destination. As a startup, your initial storage space isn't going to last for long. And if you're already at a growth stage, you need an effective process that minimizes on late or damaged products as well as improves other aspects of e-commerce fulfillment.
There are many reasons your business should consider working with a 3PL provider. We'll list three in detail. 
Leveraging Resources
As a small- or medium-sized business, one issue that often can be limiting is access to resources to carry out certain tasks or strategies. The same holds true when trying to manage e-commerce fulfillment on your own. Outsourcing this work to a 3PL company that already has all the pieces in place allows you to leverage its existing resources and not concern yourself with having to manage e-commerce fulfillment without any assistance. 
Expert Services
You got into your business because you love it. You have a product you believe in and want the masses to believe in it just the same. Fulfillment is a necessary part of business but is likely not your forte. Teaming with a 3PL provider means partnering with experts who already have a thorough understanding of all the nuances associated with the various types of fulfillment. Trust them to handle their jobs while you focus your time and energy doing yours. 
Costs
Reducing costs and increasing revenue is at the top of the list for every small- and medium-sized business. Margins are going to be a prime concern, so whenever there's an opportunity to save or cut costs, then that opportunity must be explored. Outsourcing your company's fulfillment to a 3PL provider saves on warehouse storage space along with the cost of staff needed to maintain and deliver your product. It also allows for a monthly payment that is dependent on the actual space used in the warehouse and the other services you decide to pursue. So, during months when business isn't as hectic and inventory can be kept low, you pay less. 
Focus on Your Own Business
Another thing to keep in mind is that e-commerce fulfillment services involve a lot of different moving parts. Getting a product from point A to point B requires a high level of communication, transparency for both workers and customers, and a system that is able to handle a broad range of services, including transport, customer service, packing and shipping. Even in the best circumstances—where you may have the technology capable of making this work—outsourcing the job to a 3PL provider is actually a logical decision. Get back to running your business and developing quality products.
Let APS Fulfillment, Inc. worry about your e-fulfillment services in Florida or anywhere else around the world. We're a Miami-based specialist in direct-mail marketing, pick & pack services, and e-commerce product fulfillment. Explore our website for more tips on how to identify the best e-commerce, inventory management, and shipping fulfillment strategies. For more information, please contact us at 954-582-7450 or email us at [email protected].