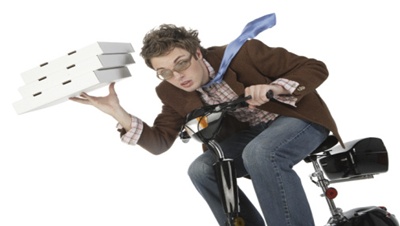 Needed it Yesterday
Ours is a world of cellphones, high-speed Internet, and fast computer-processing speeds. If you pick up the phone, you can order a pizza that arrives within 30 minutes or have flowers delivered before the end of the day.
Are we living in a supersonic age? The answer is "absolutely!"
For better or worse, we live in a time when you simply have to keep a quick pace— it can be tough, but that's the world we live in. New technology and market demands have entered the workplace, and we've been programmed to take advantage of them. It can be a real strain, but you have to keep pace in the modern world.
Curiously, in a business like product fulfillment, the "needed-it-yesterday" approach doesn't necessarily have to be the model you or your business must work within. Sure, you have to deliver quality products to your clients on time, but it doesn't have to go at the speed of light. You just need to have alternate high-speed fulfillment solutions in place for when it's necessary.
If you've gotten into the product fulfillment game, you'll find yourself requiring help from service associates or third-party pros when the need for speed arises. A lot of the direct mail marketing services in Florida form networks with other associates to get rush jobs done; this is a good model for you to emulate, and a way for you to begin to gain an understanding of those fast services.
Super Services
Start by considering when you'll need fast services and where to turn for help. For the former, it's usually a matter of something going wrong, for the latter, there are many services you have the option of getting in touch with.
Mailing fulfillment is still a bit of a problematic area. Even with the best national mailing services, items can still get lost, damaged, or delivered improperly. That's why you'll need a good alternative option for mailing fulfillment. A courier company is a great option, though they can be pricey; you'll have to shop around for the best-priced and best-performing one for your business.
You should also look into if your suppliers have rush delivery services, as you might get a client that wants a large order quickly. It's not worth passing up the opportunity to profit, so make sure you have the ability to deliver orders of any size in record time.
Keeping Pace
There are obviously other areas you should be knowledgeable about in case the need for them arises: on-demand digital printing, graphic design, and web site assistance are all prime examples. Again, consider the worst-case scenarios, and make sure your fulfillment center has the phone numbers and other contact information for those that can help when the time comes; this could be anywhere from a print shop to a logistics company. As long as you plan ahead, you'll be ready.
Going fast is often seen as bad, since haste can lead to mistakes. However, if you can adapt to supersonic services, you can find ways to work successfully under pressure and really show what your product fulfillment company is made of. Once you align your business with the right fast-minded associates, you'll solidify your reputation in no time.
Need solutions to your product fulfillment problems? APS Fulfillment, Inc has the knowledge and services to make your direct mail and product fulfillment ventures more successful. Contact APS Fulfillment, Inc by e-mail at [email protected], visit their web site at www.apsfulfillment.com, or phone at (954) 582-7450.