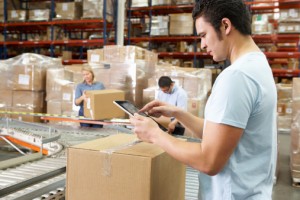 As the holiday season approaches, retailers of all kinds are gearing up for the inevitable rush. Holiday sales account for up to 40% of an online retailer's annual sales, so being prepared is integral to any successful e-commerce operation. As sales are planned, promotions drawn up, and web sites reinforced to handle the extra traffic, it's important not to neglect the fulfillment operations that will get the products to your customers this holiday season. Here are some tips to make the most of the season and keep your fulfillment on track.
Scale Appropriately
Look at the sales of prior years and anticipate the increased order volume accordingly. Use this information to both govern your inventory and to increase the number of workers you have running warehouse or fulfillment and delivery duties, if possible. If you have a large selection of products, it can sometimes be tricky to tell which is going to be the hot item. But a combination of social media, sales, and marketing research should at least point you in the right direction. Should you run your own warehouse operation, try and rearrange stock so that the items workers are expected to be handling the most are also the most accessible. If you use a third party for your warehouse needs, consider asking them if such a rearrangement can be managed.
Offer Multiple Shipping Options
Holiday shopping involves different delivery needs than most other occasions. Customers are more likely to need products shipped to different addresses or to a physical store location for pickup instead of straight to their door. Additionally, delivery alterations are going to be more frequent as people experience changes in their own holiday plans. Keeping your fulfillment systems flexible enables you to meet each of these challenges should they arise.
If possible, try to offer a combination of free and expedited shipping choices. Customers who act earlier in the holiday season will appreciate the free delivery costs while those who order later will be more inclined to pay for a rushed shipment. Having said that, don't over-promise. Work with your product fulfillment provider to establish reasonable delivery time estimates during the holidays and what your cut-off periods will be.
Ease Customer Anxiety
The holidays are stressful for customers as well and they will appreciate efforts taken to minimize this. Clearly communicated shipping policies should be available and easy to read, along with your returns policy. If possible, provide a means for customers to track their shipments so that they can stay informed. Maintaining effective customer service is essential during the holiday period. So be ready to field increased inquiries and complaints. Maintain proper communication channels with your supplier and fulfillment operations so that you can stay on top of how shipments are being managed. This will not only help keep everything on track but it will also let you give better responses to customer questions about their order statuses.
APS Fulfillment, Inc. is a specialist in direct mail marketing and e-commerce product fulfillment based in Florida. Look to our web site at apsfulfillment.com for more tips on how to identify the best e-commerce and shipping fulfillment strategies.