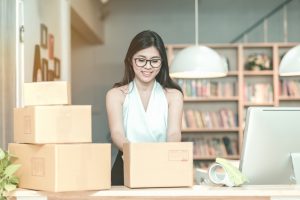 Why would any small but growing company choose to pay for fulfillment services for startups? Wouldn't it make more sense to save that money and put it towards growing the company even more? While the cheaper option may sound like the better option, small business fulfillment services are extremely valuable, if not necessary as you grow. Once you look at how a growing business increases your responsibilities and your customer expectations, you will realize the need to hire a third-party fulfillment center (3PL). If you've been holding out on hiring a 3PL partner but notice your business is growing, here are some challenges they can help you with.
Challenges Faced by Startups
Inventory Management
Once you take an order from a customer, you are making a commitment to delivering that product on time. If your orders are increasing, your in-house warehouse management may not be able to handle it. Mismanagement and miscalculation make it difficult to fulfill your orders and manage your inventory. While some customers are forgiving to small businesses, the majority have very high standards and expectations. By outsourcing your fulfillment, you can have access to their reliable technology, so your inventory can always be up to date and properly managed.
Shipping
Shipping doesn't have to be complicated. As rates in the market continue to rise for shipping your products, you will need to think about how you pack and ship your supplies. You can shrink the size of packages, if possible, but you will also need to consider whether it can still protect your items and provide ultimate consumer satisfaction. Crowdfunding platforms are also an option for small businesses. You can use them to help with things such as international shipping costs. All that said, e-commerce fulfilment services for startups can help you with all these issues. They may have multiple warehouse locations or access to better rates for local and international shipping.
Technology
Technology has simplified many different supply chain mechanisms. Thanks to GPS location you can track your delivery trucks as they carry your product in real time. On the other hand, if you have the technology but it isn't properly managed, you will have more complications in the long run. E-commerce fulfillment services will have the latest technology and know how to properly manage the software so that your operations can continue to grow.
Customer Service
Customer service is possibly the biggest hurdle for any company. You need to make sure that your shipping materials and methods get your product to customers on time and in top quality. This may require that you spend more time implementing a trackable shipping method and packaging that protects your products. The only way to increase your chances of a customer returning to your business is if they're satisfied with your e-commerce services. Unfortunately, especially for e-commerce, there is a much higher chance that they will experience complications and want to return the product. Managing your rate of return is crucial to your bottom line. Order fulfillment for startups provides reliable and organized services and they can replenish stock, get deliveries out and to the customers on time, and report real-time information to management. They can do all of this in a cost-effective manner, so you get the most out of your investment.
Order Management
You're probably already experienced the stress of customers who apparently received product that they did not order in the first place. If you have an adequate supply of product in your inventory, you will have a greater capacity to take orders. However, if products are wrongly labelled, the delivery team will end up with the wrong product in hand, thereby delivering the wrong product to the customer. To prevent a limit scenario like this, a 3PL company can provide you with services that help you manage your warehouse inventory. They can track your inventory using barcodes and scanners and provide you with a single dashboard where you can observe and manage your warehouse. By minimizing errors, you will see a growth in profitability.
How Fulfillment Partners Help Startups
As your business grows, there will be a time when you cannot expect to manage all the services of your supply chain by yourself and with a small team. For your business to keep up with its growth, you will need to focus on your strengths and leave the rest to a professional team that can handle the heavier work. Since order fulfillment is complicated and directly impacts your bottom line, the need for a 3PL partner is crucial. They can scale your business in the following ways:
Flexibility (Meet Demands after Growth)
Kitting and Assembly
Warehousing
Affordable Shipping (Good ROI)
Access to New Markets (National and International)
Customer Service
Speedy Delivery Times
Consolidation Service
Accurate Orders
Tracking and Reporting
Customer Loyalty
How to Find the Right Fulfillment Company for Your Startup
The factors and challenges affecting your warehouse and business directly impact your success as an e-commerce business and hiring a 3PL partner can help. But not all fulfillment companies are the same. Here are some things startups should consider when looking for the right partner:
Your Business Needs:
The right 3PL partner will aim to understand what you need in the near future and in the long-term. They should have the size and scope to handle your growing business; be able to handle seasonal peaks; be financially reliable; and have a good reputation.
Fulfillment Provider That Aligns with Your Vision & Values:
Finding a 3PL partner you trust can be a challenge. For your business to grow, you will need a team who has the same values and can understand your goals. They should be able to help improve your weaknesses and boost your strengths.
Location:
The location of your partner's warehouse will determine how well you can provide efficient shipping and delivery that meets your customer's expectations.
Wide Range of Shipping Solutions:
Getting your product to your customers on time, every time, accurately and cost-effectively can be challenging on your own. Find a 3PL partner that has established relationships with the major shipping players, so they can deliver creative solutions based on transit costs and times.
Seamless Integration:
The speed and accuracy at which you process your orders is the key to getting fast and accurate delivery. Hiring a fulfillment provider with the technology that enables integration and visibility is a solution many companies are turning to.
Customer-Centric Approach:
Order fulfillment lets you meet your customer's needs and fulfill a desire they have. This is the key element that keeps them coming back to buy from your store. Make sure your 3PL partner delivers what it promises and can ship products in the most timely and efficient way possible.
Our Order Fulfillment Services for Startups/Small Businesses
E-commerce order fulfillment services for growing businesses provide amazing opportunities for you to improve customer experience and loyalty. With the right 3PL partner, you can provide customers with convenience and an enjoyable online shopping experience. Managing your operations may be a difficult task on your own, especially as your business grows through your marketing efforts. Instead of trying to save money and risking serious problems, a 3PL provider can help you keep up and thrive.
APS Fulfillment, Inc. is one of the most experienced and trustworthy 3PL providers. We offer some of the most dependable, quality, and effective e-commerce fulfillment services possible, every day. We can help you if your growth has become too challenging to manage, while you stay focused on the key parts of your marketing and sales efforts. Since we are an experienced e-commerce order fulfillment company, we can offer a number of services, and advice you can rely on. We offer our clients a variety of hands-on services including product fulfillment, direct mail marketing, fulfillment solutions, fulfillment markets, and more. We also use the most current and quality software systems and technology to manage your warehouse. Leave the heavy lifting up to us and you will see a significant increase in customer satisfaction. If you're looking for the right company, look no further than APS Fulfillment, Inc. You can contact us by e-mail at [email protected] or by phone at (954) 582-7450.
Photo Credit: iStock.com/teddybearpicnic