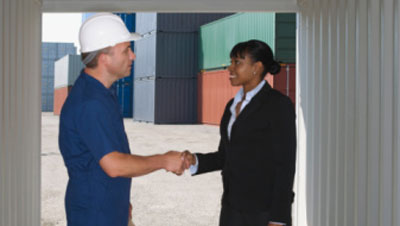 Only So Much
When you're doing business by yourself, there is a tendency to want to do it all. And there's good reasoning for this. For one, you can handle all the problems of your business yourself, ensuring that they are done correctly. For another, you can learn a lot while practicing good work methods, which will make your business stronger and your knowledge base that much better.
But let's face it, there's only so much you alone can do. No matter how great the best business minds are, there are limitations to everything, including the ability to do all the jobs alone. Sometimes you need help. And there's absolutely no shame in this; in fact, it is often better to seek out help to make sure things get done properly and on time.
The trick is to know where to go for help.
In product fulfillment, this is a real concern. When you've only got so much in-house talent and only so much money, you can bet you have to really know how to find those proper third parties to help you with your product fulfillment duty. And not taking the time to find the right pros can result in your business' success being jeopardized and your money being wasted on less-than-great assistance.
In product fulfillment services, getting third party fulfillment services is an integral part of the business itself. You can alleviate a lot of issues you have, and instead stay focused on the work you are good at. Moreover, you can make the right contacts to really benefit you and your business further down the line.
Great Expectations
When you start looking around for third party fulfillment assistance, you really have to set the bar high. You need the right pros with the best skills to help you out. Nothing shy of this will do.
In terms of what to look for, there are some fairly common things. Typically, you might realize that you have a bundle of printing jobs that need to get done, but you're unable do them in-house. Not a problem. Find the best on-demand printing services you can that offer the most printing services at the cheapest rates possible. If you get stuck here, consult other pros to see where they get their printing done and, of those used, which printing services come the most recommended.
As well, you might find if difficult to handle the storage for your products. For this, you can look to a third party to provide warehousing storage for your products. Now, this is not to be confused with the storage locker facility on the outside of town in which your buddy stores his '68 Mustang or, another, his Mason jar collection. Good warehousing storage for product fulfillment can cater to the product fulfillment industry. They have the big facilities and good security mechanisms in place. They can also get your products out when they are needed after a quick call or message.
On that, you might be having issues with your product shipping. If so, consider getting a third party logistics company to help with this. Shipping and logistics is a tough racket. There's packaging, freight options, tracking, and many other considerations. Today, with so much globalized business, a good logistics company isn't too tough to find; in fact, even the ones with most accolades in the industry can come at a decent price without sacrificing quality.
The New Wave
A final note on third party fulfillment assistance for your product fulfillment business: think about the future. If you're worried about the longevity of your business but don't know where to turn for help, a keen option today is the e-commerce fulfillment world. These folks can show you where product fulfillment is going and help make the modern changes to your business to keep you on track. To stay relevant in product fulfillment, you have to be ready for the new waves coming. And there's usually someone somewhere to help you with that.
Need solutions to your product fulfillment problems? APS Fulfillment, Inc has the knowledge and services to make your direct mail and product fulfillment ventures more successful. Contact APS Fulfillment, Inc by e-mail at [email protected], visit its web site at www.apsfulfillment.com, or call (954) 582-7450.