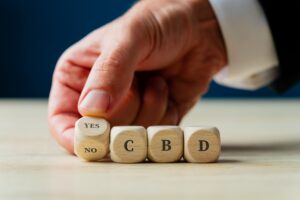 With the shifting laws surrounding cannabis products, it's crucial to understand how to meet customers' demands without running afoul of the government. This can get especially tricky when dealing with cannabidiol, or CBD, as it occupies a unique place among regulated substances in the U.S. 
That said, let's take a look at how you can make sure you're doing CBD fulfillment correctly.  

Challenges of CBD Businesses 
There are many challenges that CBD businesses face today when it comes to CBD fulfillment. Here are just a few of the major obstacles businesses face.
Law
Understanding the laws around selling CBD online is naturally the first challenge that needs to be addressed. 
The good news is that there isn't really a challenge at all. 
That's because the 2018 Farm Bill essentially made CBD products legal. Note that CBD does not produce that euphoric "high" feeling and is therefore not really a psychoactive drug. It can also be extracted from hemp, which is legal for harvest in the U.S., while the marijuana plant remains prohibited on the federal level (states vary). 
So, as long as the THC (the molecule that gets you high) level is beneath the requisite threshold of the state and feds, you're good to go. 
Negative Perception of CBD Products and Businesses
One of the challenges of the CBD business is, of course, that it is often associated with marijuana. That association leads people to mistakenly assume it's illegal or will have psychoactive effects. 
CBD is typically deployed as a medicinal supplement, so there's also the perception by many that it doesn't really have any medical benefits and instead is just another way for people to enjoy marijuana (again, this is a misconception).  
Slow and Expensive Licensing
Legalization is a major hurdle that was overcome, but hardly the only government-imposed one: licensing can be expensive and take a long time too. Application fees and other bureaucratic costs can slow your entry to market and eat away at your budget over time. 
Transaction Issues
Another major challenge to CBD fulfillment is payment processing. Many major credit cards are reluctant to process sales of online CBD products. 
That's changing, but it can still be an issue. This can make receiving payment, of course, difficult, requiring cash changing hands or some other workaround. 
High Competition
With an untapped market valued in the billions, it makes perfect sense that we'd see a good deal of competition in the space vying to get in on the ground floor as the global market expands. 
As such, expect to see many competitors. The good news is that with top-tier CBD fulfillment capabilities, you'll be able to leave them in the dust. 
Tips for Running a CBD Business Online
There's a reason we're still talking about the CBD industry—because it can earn you a lot of money. Millions of people are discovering the molecule and enjoying its benefits. 
That in mind, let's go through some of the tips that can help you overcome the challenges listed above when selling CBD online. 
Identify Your CBD Niche and Products
CBD can be consumed as an edible, oil, pill, or drink, and it can help with mood, pain, stress, and more. It's a product with a lot of applications. Understanding who your market is and where they live so you can achieve faster delivery times (a key metric that influences customer's decisions when choosing a provider) is key. 
Understand the Laws and Regulations 
The laws are simpler than they may appear, but it's still important to understand them to the finest detail. The last thing you need is a work stoppage due to some licensing or packaging issue. Look into shipping requirements, or better yet, have an expert in CBD fulfillment ensure your products will be sent without issue. 
Find the Right CBD Supplier
You'll need to find a CBD supplier that produces CBD with the appropriate THC thresholds (states differ on their THC thresholds). What's more, you'll need to source your CBD as close as possible to your customers to reduce shipping costs. 
Determine Shipping and Payment Terms
You'll need shipping policies that are competitive with other CBD providers (this can include guaranteed delivery times, free cancellation, free returns, etc.). You'll also need to work out how best to process payment, so you can ensure that your clients aren't left frustrated when their credit card is declined and they seek another supplier. 
CBD Fulfillment Done Right with the Help of the Experts
With the challenges of the CBD business many and often complicated, you need a CBD fulfillment partner you can rely on. 
At APS Fulfillment, Inc. we can help you navigate the complicated CBD terrain, so you're boosting revenue and avoiding headaches. 
We feature state-of-the-art warehouse management software (WMS) that makes inventory management and goods tracking easy. We'll also support your business and automate the warehousing, prepping, shipping, picking, and packing of your orders!
With APS Fulfillment's real-time processing, we can confirm your order, have it picked and packed, and shipped with one of our trusted partners, in just 24 hours.
There are a wide range of benefits to working with a third-party logistics company that uses the best-quality software systems to manage your warehouses. Other product fulfillment companies may offer a similar set of services, but APS Fulfillment, Inc. goes the extra step. We take great pride that our quality control procedures are state-of-the-art, and we guarantee 24-hour turnaround times for our service orders.
Get in touch with us and one of our consultants will tailor a fulfillment plan designed to grow your business. Book a consultation by calling (954) 582-7450 or email [email protected].