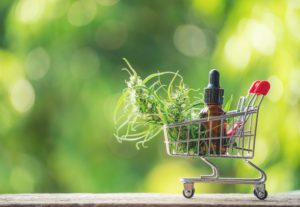 Running a business today is a lot of work. From maintaining an online presence on social media, to providing an inventory on your online store, to managing your warehouse, to keeping your customers happy, there's no shortage of work to be done. Juggling all these processes on your own as your business grows can become too much, resulting in mistakes, damaged orders, frustrated customers, and poor customer service. Finding the right way to handle your CBD fulfillment is essential to building your reputation as a quality, professional, trustworthy, competitive supplier. Here are some important points to help you find the right CBD fulfillment services for your business.
What Is CBD?
CBD stands for Cannabidiol and it is one of the active components of cannabis. While, tetrahydrocannabinol (THC), an ingredient in cannabis that is known for causing psychoactive effects, is still illegal in many parts of the United States, recent changes in laws and regulations have allowed for the legal production, sale, and purchase of CBD.
CBD is used as a natural medicine to ease pain, calm anxiety, prevent seizures caused by epilepsy, and much more. Because of its benefits, CBD is more widely accepted and legalized in the U.S., although it is still being closely monitored and regulated.
Currently, CBD is legal in the following states: Alabama, Georgia, Indiana, Iowa, Kansas, Kentucky, Mississippi, North Carolina, Oklahoma, South Carolina, South Dakota, Tennessee, Texas, Utah, Virginia, Wisconsin, and Wyoming.
Regulations, Guidelines, and Compliance for Shipping CBD Oil
When working in the CBD industry, it's important to be aware of the rules and regulations of the state you live in, as well as the locations of your customers. Here are some factors to consider:
Federal Regulations: Make sure you conform to the federal rules provided for shipping CBD in the U.S. For example, whatever form of CBD you ship, some states require that it is made from hemp, not cannabis, and must contain 0.3% or less THC.
Courier Guidelines: If you use USPS, you must follow their guidelines, whereas private couriers may have different rules.
Packaging and Labeling: Your manufactured products must meet the standards and regulations of CBD packaging and labeling.
Farm Bill Compliance: If you are a distributor you need to ensure your products come from a produce that is reputable according to the Farm Bill. They need to abide by the new guidelines for growing and manufacturing CBD. If you are a farmer or grower, you will need to strictly follow the rules for farming cannabis.
Determine Which Fulfillment Service You Need
There are three types of fulfillment centers to consider: in-house, CBD drop shipping, and third-party fulfillment. Each option has its own pros and cons, so weigh them carefully before making your decision. Here is a breakdown of each model.
In-House Fulfillment
Depending on your capabilities, you could complete orders on your own. You can store your stock at home or in a rented office and use the local postal service to deliver your products to your customers. Or, you could store your inventory at a local warehouse to meet customer orders. This method is a great option for people who are just starting their CBD business and are not worried about too many customers or large order quantities. As demand increases, however, you may need to consider the other option.
Drop Shipping
This option involves procuring products and shipping customer orders. You are responsible for marketing your products online, but you don't deal with the inventory. Drop shipping is a great option for sending out many products but is not ideal for CBD products as you won't be in control of product selection, quality, and shipment speed.
Partnering with a 3PL Provider
The final option is to hire a 3PL service, which enables you to complete orders without paying for storage space or hiring your own work force to perform warehousing responsibilities. You will still be in control of choosing the manufacturer of your product, but the 3PL provider will handle all the hands-on work of picking and packing, sorting, shipping, deliveries, and inventory management. If you choose a provider with multiple locations, it will allow you to send your products to a wider region of customers without paying high amounts for shipping.
Research Legal Candidates in Different Regions
If you are looking for 3PL services that offer CBD fulfillment for CBD oil in the United States, a quick Internet search can help you narrow it down to candidates that serve your region. However, it's important to find a company that has years of experience and provides a variety of supply chain services. The company you choose to partner with should also have the right procedures in place to properly store and handle CBD products.
Finding the right provider to meet your CBD sales requirements can make all the difference between growing your customer base and getting poor reviews that harm your business. When you work with a 3PL provider that is familiar with CBD fulfillment, they can warehouse your items and ship them to your customers. They can also provide you with better pricing, so that you can see a good return on investment (ROI).
APS Fulfillment, Inc.'s CBD Fulfillment Service
The laws and regulations are constantly changing, and it would serve you to partner with a professional team that keeps up with these rules. At APS Fulfillment, Inc., we can adjust capacity and speed at your request to meet the requirements of your business and keep you competitive in the market.
If you need assistance with warehousing, pick and pack, distribution, transportation, or inventory management of your CBD products, we can help. We are a fulfillment center for CBD oil and a variety of other products. We also fulfill nutraceuticals, supplements, vitamins, nutritional and sports beverages, skincare and cosmetics, imported grocery products, CD and DVDs, books, promotional products, dry food and storage, electronics, apparel, and more!
Contact us by e-mail at [email protected] or by phone at (954) 582-7450 to learn more about our CBD fulfillment services or to request a quote.