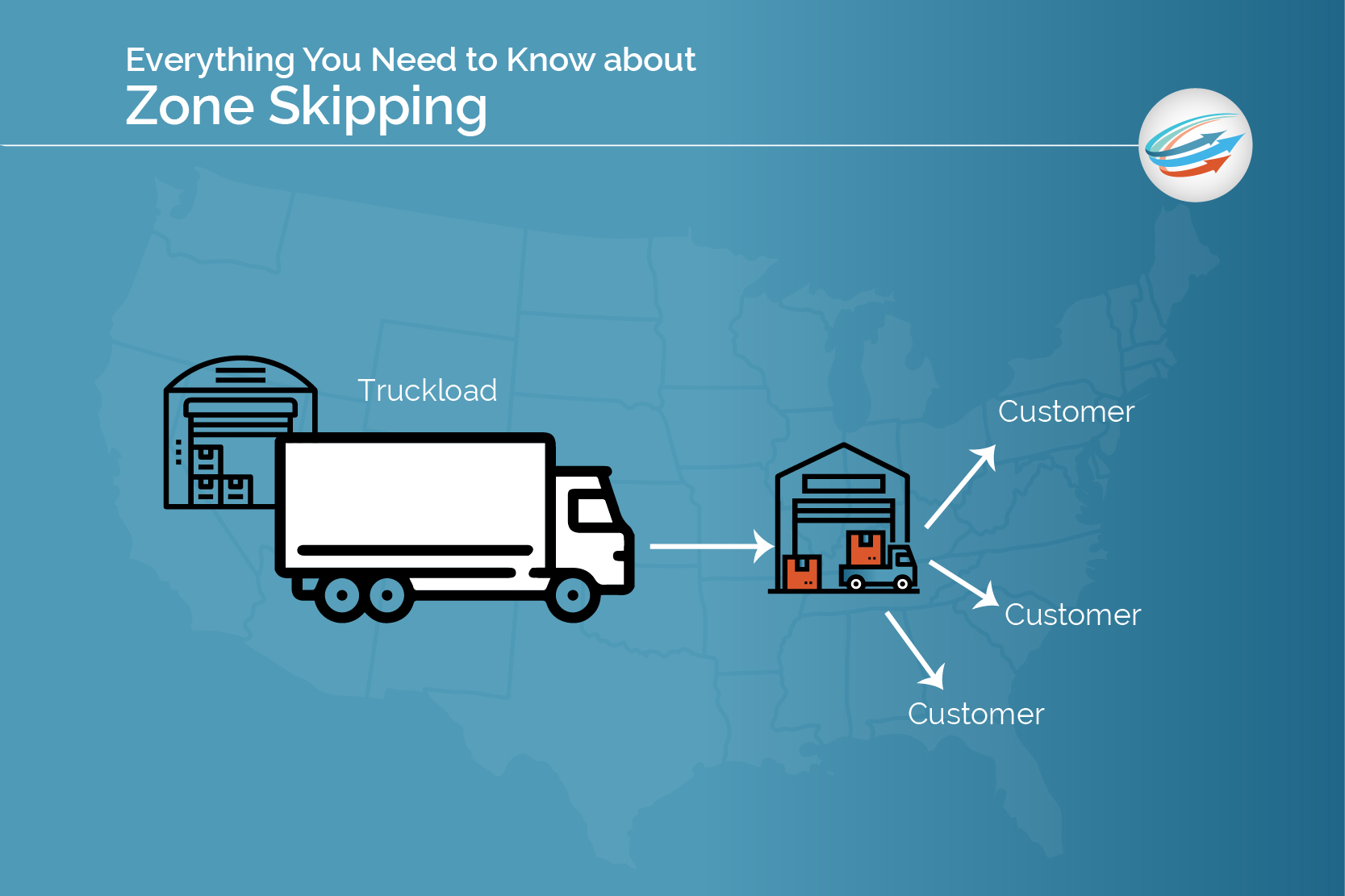 Do you run a small- or medium-sized e-commerce business that ships to customers around the world? If so, then you understand the benefits of reducing costs while increasing efficiency. Zone skipping can help your company in this regard—but what exactly is it and how does it work? In this blog post, we'll dive into everything you need to know about zone skipping so you can continue to offer convenient and cost-effective delivery for your customers.
What Is Zone Skipping?
Zone skipping is a great way to improve the efficiency of Less than Truckload (LTL) shipping. It can be used by shippers operating in contiguous states to avoid costly intermediate haulage, and it can be especially beneficial for those who have shipments that don't need the intensity of coverage that an all-inclusive LTL network requires.
By skipping neutral terminals and instead heading straight from one business to another, shippers are able to avoid additional associated costs such as fuel surcharges, linehaul premiums, and equipment penetration fees, which enables them to save time and money. The potential for cost savings can make zone skipping attractive for businesses seeking responsible ways of controlling their logistics operations.
How Does Zone Skipping Work?
When companies like UPS ship using this tactic, they're able to save a ton of money because they consolidate many packages into one large shipment. These savings can trickle down to the marketer and end users, and they can benefit everyone involved in the transaction.
For example, if a company needs to ship 3,000 packages from New York to California at $10.00 each, they'll end up incurring $30,000 in shipping costs. If they were to consolidate these packages and send them as a full truckload, they could cut that cost down to a mere $3,000, after which they'd only need to pay for the shipping from the carrier's facility to the customer. Therefore, the company would have a total savings of over $5,000 when all is said and done.
When to Use Zone Skipping for Your Business?
Utilizing zone skipping for your business shipping can be a great way to save money. But knowing when to use it is important in order to maximize efficiency and cut costs.
If you have items that weigh over 10 lbs. and do not require expedited shipping, zone skipping can be a great option. It's all about making sure that the service you choose serves both your budget and delivery timeframe needs.
Additionally, larger shipments might be able to take advantage of discounted rates if moved in a consolidated shipment allowing transit time within the 1-10 day range. Understanding when and how to use zone skipping will help you make strong decisions regarding your business' shipping strategies.
Pros and Cons of Zone Skipping
Here are some things to keep in mind if you're considering using zone skipping for your next shipment:
Pros:
Zone skipping can lead to savings in shipping costs by leveraging the lowest rate between two points.
Zones skipping offers faster delivery speeds, thereby reducing customer wait times, without spending additional money on expedited services.
When shipping goods, zone skipping means that you only ship to the zones that your goods are going to be sold in.
Cons:
Zone skipping can lead to delays and lost shipments if not done properly.
It can become quite time consuming and difficult to keep track of a shipment when it is divided into multiple parts and shipped to different places.
There is a risk of improper packaging that could result in damaged goods, which can end up costing more than you bargained for.
Contact APS Fulfillment, Inc. to Help You Reduce Costs and Improve On-Time Delivery
Working with a fulfillment house like APS Fulfillment, Inc. can help you to reduce costs, maintain high quality, and ensure on-time delivery of your products. With fulfillment services such as product storage, picking and packing, kitting & assembly, and shipping across the globe, you can rest assured that you will be partnering with an experienced team that puts your needs first. Book a consultation by calling (954) 582-7450 or email [email protected].