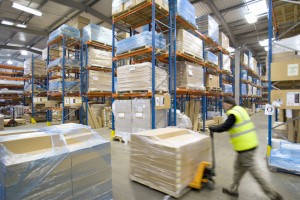 Although the weather outside can become frightful, the Christmas season means that your sales can be quite delightful. The key is ensuring that your e-commerce systems and order fulfillment operations are able to handle the increased load. Unfortunately, online retailers face a number of challenges when trying to ensure the fast and effective fulfillment of a customer's Christmas wish.
8 Holiday Fulfillment Challenges to Overcome
Web Site Traffic
An e-commerce company is dependent on its web site as the means by which customers spend their money. Chances are that you have looked at your web site's regular traffic and gotten a hosting setup that can only sustain up to a little bit over the maximum visitor volume. However, the holiday season has a habit of throwing these metrics out the window and it is not uncommon for bandwidth to quickly get eaten up by the sheer number of visitors browsing or trying to buy your goods. If customers find your web site too slow or, even worse, crashing when they try to use it, then you risk losing out on a lot of sales.
Speak with your web site provider and establish proper disc space, bandwidth, proxies, or server environments that can help manage the load and keep the site running smoothly.
Customer Support
The holidays are a high-pressure period thanks to last-minute order changes, shipping requirements, billing or package disputes, and consumer complaints, which all occur in a very short window of time. Putting all the necessary information about delivery response times, the return policy, or postage information on your web site won't stop people from calling in with common queries either. All of this can add up to long waits on hold, angry customers, and stressed staff.
Much as brick-and-mortar stores do, a temporary staff increase is a good idea to better handle the holiday deluge. These seasonal workers can help by serving as extra customer support representatives to assist callers and cut down on wait times. Alternatively, they can take care of more menial and rote tasks that otherwise would keep permanent staff from their main duties.
Shipping Demands
Winter weather and increased demand on postal systems and third-party delivery providers mean that sometimes a lot of delivery delays can happen that are simply out of your hands. Unfortunately, customers tend not to recognize this and will only remember that they didn't get their package by Christmas day.
This is why it's important to make sure you offer as many shipping options as you can reasonably manage. Have an understanding beforehand about what your cutoff dates are—that is, the latest a regular delivery order can be placed in order to arrive by December 25. Make sure this date is clearly displayed on your site for each method of delivery you have available. Having a few contingency plans for what to do in case of road closures from weather or other shipping delays is also advisable.
Maintaining Customer Loyalty
As the holiday season is in full swing, customers are surveying sites for the best deals out there. If the words "free shipping" aren't attached to their purchase, then it becomes much easier for them to move on to the next business. But free shipping is only a small part of the customer's experience. What should excite businesses is not just maintaining customer loyalty through discounted shipping but the opportunity to make new loyal customers through a cohesive shopping and shipping experience. Understand that your product and company will be judged from the time the customer lands on your web site. Shipping represents one of the final stages of this judgement, and getting it right means you maintain the trust of your current customers while gaining the trust of new ones.
One of the toughest holiday shipping challenges is properly managing inventory. With sales likely to spike during the holidays, inventory management becomes one of the keys to maintaining customer satisfaction and loyalty. It's not uncommon for businesses with poor inventory management to run out of product in the weeks leading up to Christmas, leaving customers disappointed. One way to avoid this potential disaster is to take inventory of your best-selling products, compare last year's holiday sales, and produce a sound estimate of how much product would be suitable as you enter the thick of holiday shopping.
Inventory/Order Tracking
During the holidays especially, order tracking becomes crucial. At no other time of year does on-time delivery mean as much to a customer as it does in the throes of the holidays. As a business shipping products to customers, providing accurate insight on the location of their package puts customers at ease because they know when their orders will arrive. Order tracking also gives you a leg up should there be any issue since you will be better prepared to answer customer inquiries and provide solutions to their concerns.
Might as well ensure your product return management is in tip-top shape right now because as sales spike during the holidays so do returns. You can really alleviate much of the potential stress of holiday returns by having a clear return policy stated on your site. As a tip, having free shipping on returns has shown to increase sales by up to 300% in some instances. Customers feel safer making an online purchase when they know there is no shipping penalty should they need to return it. Particularly during the holidays, when many of the purchases are for other people, customers wouldn't want to put burden the recipient with the cost of returning the gift if they need to.
You're pretty much shooting yourself in the foot if you fail to deliver on time during the holidays. Out of all the Christmas shipping challenges, this is the one you need to get right. Shipping products on time during the holidays will take more preparation than at any other time of the year, but if there's ever a time to put in the work, it's right now. The payoff, as we mentioned, can be more than a one-time shopper. The potential to acquire new customers while keeping your current customers loyal depends heavily on simply being able to deliver on time.
APS Fulfillment, Inc. is a specialist in direct-mail marketing and warehouse fulfillment and is based in Miami, Florida. We've stored, sorted, and delivered products of all shapes and sizes for all kinds of companies. Contact us by phone at 954-582-7450 or by email at [email protected] for more ways third-party warehousing and fulfillment services can support and grow your business.