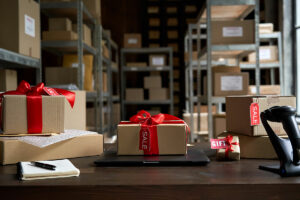 As anyone operating in the e-commerce business can tell you, holiday order fulfillment can be among the most stress-inducing times. You have strict deadlines, huge influxes of demand, and potentially inclement weather slowing travel on the road. And this is among the most important times for your business as order volume spikes dramatically—failing to meet delivery deadlines could lose recurring customers and revenue year after year.
And this year, all these challenges are only being exacerbated by COVID-19 and supply chain interruptions.
But the good news is that these peak season fulfillment challenges are predictable (COVID notwithstanding) and, therefore, can be mitigated with some preparation.
Common Shipping Challenges during Peak Season
We know there are holiday season fulfillment challenges that businesses face, but before we can solve them, we have to first get a bit more information about what these challenges actually are.
Dealing with Limited Warehouse Capacity
With so many orders coming through, these shipments can begin to push your warehouse capacity (or those of your third-party provider) to its limit. What's more, with COVID-19 creating uncertainties on the manufacturing side, it made sense for e-commerce businesses to stockpile goods they predicted would be in demand (or past seasonal sales indicated would be in demand). This already created a situation where warehouses are packed to the gills. The holiday season and its increase in orders is only going to make that problem worse.
Sorting Out Your Inventory Pileup
We're seeing goods pile up in ports with too few drivers able to deliver these precious goods to hungrily waiting customers. With this lack of shipping available, we're seeing an increase in inventory pileup for e-commerce businesses as well.
Meeting Delivery Dates
There are few things worse than missing a delivery date in the holidays for an e-commerce company. After all, with the holidays having specific built-in deadlines, if the order doesn't arrive on time, that could serve to mar the holiday celebrations for a person or family (which means they are unlikely to be recurring customers). Couple these strict deadlines with higher demand and the potential delays that can come as a result of this influx, and you have the perfect storm.
Partner with a Fulfillment Company to Overcome Order Fulfillment Challenges during the Holiday Season
This year, it's likely that holiday order fulfillment will be fraught with challenges. But you can counter these holiday season fulfillment challenges by partnering with a third-party logistics company that has the warehouse space, delivery channels, and inventory management expertise to resolve all the issues enumerated above.
APS Fulfillment, Inc. can help you meet all your holiday demand without missing a beat. We are a premier subscription box fulfillment center with state-of-the-art warehouse management software (WMS) that makes inventory management and goods tracking easy. We'll also support your business and automate the warehousing, prepping, shipping, picking, and packing of your orders!
With APS Fulfillment's real-time processing, we can confirm your order, have it picked and packed, and shipped with one of our trusted partners, in just 24 hours. Get in touch with us and one of our consultants will tailor a fulfillment plan designed to grow your business. Book a consultation by calling (954) 582-7450 or email [email protected].