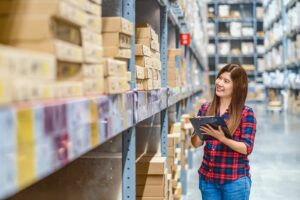 If you are an Etsy seller, then you know that order fulfillment can be a huge challenge. Not only do you have to worry about packing and shipping orders, but you also need to find a warehouse that can store your products and ship them out when orders come in. This can be expensive and time-consuming, and it's often difficult to find a third-party logistics (3PL) partner that can meet all your needs.
In this article, we will discuss the benefits of using a third-party fulfillment provider for your Etsy business. We will also look at how order fulfillment by a 3PL provider can help you manage your orders more efficiently and save money on shipping costs.
What Is Etsy and How Does It Work?
Etsy is an online marketplace that allows people to sell handmade, vintage, and unique items. Etsy does not have their own fulfillment service, but a seller can integrate a third-party fulfillment service (also known as a " third-party logistics" or "3PL") to fulfill their orders. This means that when an order is placed on Etsy, the third-party fulfillment company will pick, pack, and ship the order to the customer.
Etsy allows sellers to integrate a third-party fulfillment provider with their system, which makes it easy for the seller to manage orders and fulfill them in a timely manner. Etsy also offers discounts on shipping costs when using a third-party fulfillment provider, which can save the seller money.
What Are the Benefits of Outsourcing Your Etsy Order Fulfillment?
There are many benefits to outsourcing your Etsy order fulfillment, including:
Affordability
Shipping costs can be a significant expense for Etsy sellers; however, using a third-party fulfillment provider can help you save money. Often, these companies have negotiated rates with shipping carriers that are much lower than what you would pay on your own.
Aso Read: Benefits of Outsourcing Shopify Fulfillment Services
Easy Warehousing
When you use a third-party fulfillment provider, you don't have to worry about finding a place to store your products. These companies have warehouses that are specifically designed for storing and shipping e-commerce orders.
Automated Processes
A good third-party fulfillment provider will have systems in place that automate the order fulfillment process. This means that each order will be processed quickly and efficiently, and you won't have to worry about forgetting to ship an order.
Notifications Sent to You and Your Customers
Most third-party fulfillment providers will send you notifications at each step of the process, so you'll always know where your orders are and when they've been shipped.
High-Volume Orders
If you receive a large number of orders, it can be difficult to fulfill them all on your own. However, third-party fulfillment companies are equipped to handle high volume orders. This means that you can focus on growing your business without having to worry about fulfilling orders.
APS Fulfillment, Inc. Integrates Etsy Orders
If you are looking for a fulfillment partner that can take care of your Etsy orders, look no further than APS Fulfillment, Inc. We have the experience and expertise to handle your order volume while you focus on growing your business.
Contact us today by calling (954) 582-7450 or email [email protected] to learn more about our services and how we can help you take your Etsy shop to the next level. We can tailor a fulfillment plan designed to grow your business.