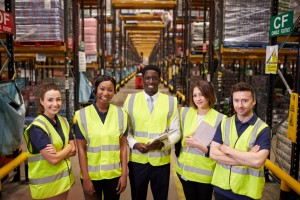 If you're just entering the e-commerce space, you should be excited. There are mountains of opportunity, but also tons of challenges as you try to carve your own space in a crowded market. If you're already in that space and looking for a way to separate yourself from the pack, then maybe it's time you consider outsourcing your order fulfillment services to a third-party logistics (3PL) provider.
8 Signs It's Time to Outsource Your Order Fulfillment
If you're unsure of whether you should be outsourcing to a third-party fulfillment provider, here are some clues:
Marketing and Other Parts of Your Business Are Taking a Backseat
Your business needs you. There's no magic formula that will guarantee your products will sell. You need to design and execute marketing campaigns that will make your business profitable. And that's not possible if you're spending valuable time picking and packing and running your own logistics plan.
Fluctuation in Order Volumes
Outsourcing fulfillment means you are now working with a variable cost rather than a fixed one. This means that your budget will more accurately reflect your output from month to month because you aren't paying the fixed costs associated with running your own logistics.
Running Out of Warehouse or Distribution Center Space
As the demand for your products expand, so does the demand for space. If you find yourself having to move into larger and larger spaces and paying more and more rent, then it's an indication to make the switch to a 3PL and save on those fixed costs.
You're Terrible at Returns Management
Returns are one of the most critical services when it comes to retail, particularly e-commerce retail. Not having a proper system in place will surely lead to lost customers. Don't risk this. Either get your return system right or consider working with a fulfillment service that already has the experience.
Warehouse Labor Costs Are Out of Hand
If you're paying heavy costs for warehouse labor and it's impacting your bottom line, then outsourcing fulfillment to a 3PL should be an option.
You're Unable to Handle Shipping Rate Changes
Shipping rates need to be negotiated. 3PLs already ship heavy mail and have the leverage and the relationship to cut those rates down.
You Struggle with Inventory Management
Whether you're just starting out or a seasoned e-commerce vet, inventory management is something you'll continually need to handle if you hope to keep your shipping efficient. If you're struggling in this area, then a 3PL might be the answer.
You Want to Expand Your E-Commerce Business (International Fulfillment)
Today's e-commerce market is a global market. If you're trying to expand into the international market, then logistics become even more complex. You'll need to understand international shipping laws and practices, and experienced 3PLs can help.
APS Fulfillment, Inc. works with many businesses to fulfill their e-commerce logistics goals. We understand the needs of small businesses and can help improve your entire fulfillment strategy. If you're experiencing any of the setbacks we've mentioned, contact us now at 954-582-7450.