If you're one of the 250,000+ active Magento store owners, you can have your orders automatically shipped to your customers with APS Fulfillment, Inc.
Our state-of-the-art fulfillment services are seamlessly integrated for Magento E-Commerce. That means our software connects with your e-commerce store, making it easy to stock your products and manage inventory. With APS Fulfillment's real-time processing, we can confirm your order, have it picked and packed, and shipped with one of our trusted partners in no time.
Seamless Magneto Store Integration
What's more powerful than your Magento e-commerce site? A fulfillment services company with Magento store integration. Over the years, APS Fulfillment, Inc. has invested heavily in warehouse management software (WMS), integrating with more than 106 popular e-commerce platforms, including Magento.
We understand that Magento is the backbone of your e-commerce platform. Not only that, but your store's reputation hinges on your customers' online experience—from shopping, to the checkout, and the shipping and delivery journey.
APS Fulfillment, Inc. has seamlessly integrated Magneto Commerce with enterprise resource planning (ERP) and third-party tools, which helps streamline your business operations and enhance your customers' buying experience.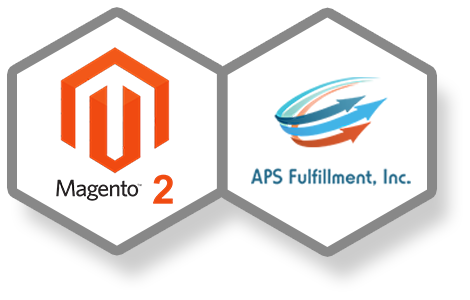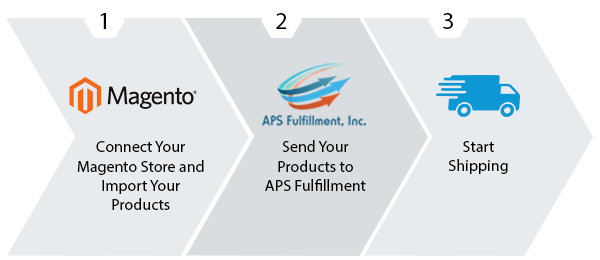 How Magento Order Fulfillment Works
Connect Your Magento Store and Import Your Products
It's easy to connect your store with Magento and import your products. That information gets sent to APS Fulfillment through the cloud and gets integrated into our system.
Send Your Products to APS Fulfillment
Send your products to APS Fulfillment, where we can manage your inventory, pull orders, and ship out your customers' packages.
Start Shipping
Once your stock is integrated into our system, you can start taking online orders. After an order is placed, it gets automatically routed to APS in real-time. We take the order and process it just as quickly and send it to your customers on the same day.
Why Choose APS as Your Magento Order Fulfillment Partner?
When it comes to outsourcing your Magento fulfillment and having your orders filled fast and accurately, there's no one better than APS Fulfillment, Inc.
Here are some of the benefits of our Magento fulfillment services:
24-hour turnaround. That's how quickly we get your inventory on our shelves from when it enters our warehouse.

24/7 security. We're always watching your inventory, ensuring its safe and accounted for.

No monthly order minimums.

No limits on the products weight, size, or shape.

We also provide space and individualized shelving for plus-sized storage and smaller items.

95% of all orders received before 1:00 p.m. get shipped out the same day and are guaranteed within 24 hours.

APS is located close to all major transportation hubs; just 20 minutes from the Port Everglades, the top port in Florida, and 30 minutes from the Port of Miami—two of North America's largest export hubs.

In addition to pick & pack, we also provide kitting and other assembly services.

We offer a wide variety of shipping options, from one-day to two-day, ground, media mail, priority mail, etc.

Because of the huge volume of materials we process, our customers save on shipping expenses with our closest partners, USPS, UPS, and FedEx.

Through our Magento integrated WMS dashboard, you get real-time updates on current inventory, allocated inventory for orders and available inventory for future orders, as well as returns and quarantined products. You can also track your orders, fulfillment rates, closed orders, open orders, and remaining orders for the day.
Outsource Your Magento Fulfillment with APS Fulfillment, Inc.