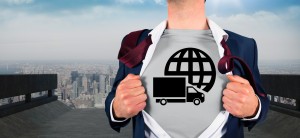 If you're in the business of selling products, then you're in the business of manufacturing, storing, and shipping products as well. That means as a business owner you need to have a logistics strategy in place that makes this process efficient and cost effective. Your logistics should be an asset, a tool your business uses to maximize profits and solidify your relationship with customers. Used incorrectly, however, it can be equally as detrimental to the operations of your organization.
That said, what does a winning logistics strategy look like? What features are necessary if you are hoping for your business to optimize its logistics opportunities? In this article, we'll discuss a few characteristics of a highly effective strategy.
Negotiate Freight Prices with Predictive Volumes
Because logistics strategies for new businesses have no history, it can be tough to know the amount of volume to plan for. This is when collaborative research needs to be conducted to produce predictive volumes. When this is done correctly, you put yourself in a position to negotiate fair freight prices. Otherwise you may end up overpaying until a history of work is developed.
Get Into Demand-Driven Logistics
The goal here is to better match the demand for your product with the supply. This goes further than reducing how much is spent on transportation. If a business can really sync these together, then less inventory is stored and customer service becomes a stronger focus.
It's a Team Effort
Logistics needs to be understood and categorized as a function that is part of the company's operations; not separate from it. That means they should be at the table as part of sales and operations planning, which should involve a regular meeting of all of those positions playing a role in the ongoing activities of the business. This includes marketing, sales, manufacturing, warehouse, finance, and whoever else falls under this specification.
Logistics Should Be an Extension of Corporate Strategy
This concept is fairly simple but not always followed to the extent it should be. We touched on this a little bit in the last point. Know that if your company is based on being friendly to the environment, then your logistics should be eco-friendly as well. If your business is based on being cost effective to your consumer, then your logistics should follow suit. Keeping the brand consistent all the way through helps reinforce your promise and your purpose to your customers.
APS Fulfillment, Inc. understands the importance of a sound logistics strategy. We incorporate our use of the latest technology with a team of experienced and knowledgeable staff who know what it takes to help businesses get ahead. Visit our web site today to learn more about what APS Fulfillment can do for your organization.
Source:
Pontius, N., "Logistics Strategies for Businesses: 19 Experts Share Tips on How To Develop a Winning Logistics Strategy," August 20, 2015; http://www.camcode.com/asset-tags/how-to-create-a-winning-logistics-strategy/.