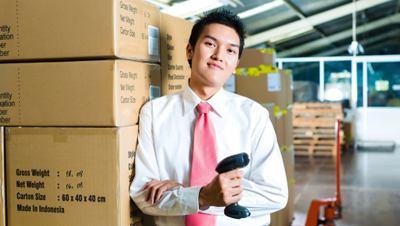 There's a common debate over whether or not the world is becoming too rushed and crazy. With all the constant demands for goods and services, professionals are expected to work hard to succeed in customer satisfaction. Quite often, however, a lot of product fulfillment pros cannot get caught up in the debate, needing to instead focus on doing the best they can to meet the demands of their profession. Logistics plays a part in this whole process.
Point A to Point B
The practice of getting goods from point A to point B is integral to most businesses today, especially in product fulfillment. People see the products you have, fork out some cash or credit information, and expect that what they've ordered from you will soon arrive at their doors. It should be an easy process.
But like a lot of things in life, logistics for product fulfillment can get pretty tricky. Getting your products to clients on time, undamaged and in proper working order is a bigger challenge than one might expect. Logistics is such a big industry in and of itself that confusion is a very real, albeit negative, possibility. In product fulfillment, you have to consider all possibilities, install great logistics management into your operations, and be ready for if and when things go wrong. If that sounds difficult, understand that it can be. But if you do some work beforehand, you can get your logistics management down pat, resulting in great product delivery services and happy clients who will pay for more products.
Staying on Course
With logistics for product fulfillment, seamless product shipping is the main objective. You have to make sure that your clients' orders are satisfied and then delivered as promised. Beyond that, it's a matter of organization.
This leads to considering what sort of logistics you need in place for your product fulfillment business. Postal logistics is an obvious consideration, as you will likely be shipping products to clients through the mail. However, depending on how mail services work, you may wish to consider alternatives here, such as courier companies, to improve logistics speed and provide shipping guarantees you might not get from the postal services.
Transportation logistics are also a matter of importance. There are a lot of different vehicles for shipping out there—ship, plane, or cube van, among others. You have to see which items of specific sizes can be shipped the right way. For example, bigger goods or ones of larger quantity need a large enough vehicle to accommodate the shipment size, and will likely run you a slightly higher cost for shipping.
When implementing product logistics, you may opt to employ a logistics company to assist you. These companies can be helpful and can handle all of your shipping needs for you. However, they can also be expensive, so be sure to assess your budget to determine what logistics options you can afford.
The Route to Success
You might find yourself adept at logistics management for your own goods. In that case, offering product shipping services for other product fulfillment ventures might be an option for your business. Logistics can be a tough racket to understand, due to today's international shipping laws, extensive postal logistics information, and all matters of troubleshooting or tracking during the actual shipment; therefore, if you have a skill in this department, it's transferrable and has value to others in your line of work.
Despite its name, logistics isn't always logical. At times, it can be rigmarole to the migraine degree. But it's not an impossible practice to figure out, and product fulfillment pros can work through it to satisfy their clients' requests, delivering success time and time again.
Need solutions to your product fulfillment problems? APS Fulfillment, Inc has the knowledge and services to make your direct mail and product fulfillment ventures more successful. Contact APS Fulfillment, Inc by e-mail at [email protected], visit its web site at www.apsfulfillment.com, or call (954) 582-7450.