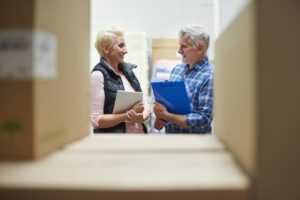 With the COVID-19 pandemic still making headlines across the country—especially here in the U.S. where we're seeing a surge of new cases—your business needs to adapt if you haven't already.
Consumers who were normally happy to walk into a store to shop for virtually any item are increasingly pivoting to e-commerce platforms when making purchasing decisions.
And if you've done the smart thing and switched to an e-commerce platform to deal with this pivot, congratulations, you may have saved your business!
While it's one thing to have your business offer products online, it's another thing to get your products into your customers hands quickly, safely, and accurately. While a small "mom and pop shop" might be able to handle a trickling of online orders, small businesses who see a surge in online orders need to make sure they have a product fulfillment partner to handle the massive job of fulfilling orders, tracking orders, ensuring safety, handling returns, and more.
APS Fulfillment Inc. in South Florida is recognized as a leader in the product fulfillment industry.
Here's how we can help your business safely and effectively fulfill your online orders and more:
Safe, Secure, and Clean Warehousing: Our Pompano Beach, Florida warehouse is secure with updated systems to make sure that your product is safe. We offer temperature-controlled areas for items that need the service. Plus, we've taken every health and safety precaution during COVID-19 and have a full sanitation procedure to ensure the safety of not only our employees, but your customers.
Full-Service CRM Integration: We can connect to your existing shopping cart to accurately track incoming orders, stock levels, shipments, order tracking and returns. Never rely on guesswork as the new world of increased e-commerce spending means you have to have complete transparency over your inventory, shipping, and refunds.
Prime Location: We're located near the port in Fort Lauderdale, where thousands of shipments arrive daily. If your product originates overseas, it can be in our warehouse quickly after it lands, allowing you to deliver to your customers quickly and minimize returns.
Partnerships: We partner with some of the best in the business, including all major delivery companies such as the USPS. We also can provide call center services to help handle the increase of customer service requests and digital marketing to help attract new business to your website. These services are provided through sister companies that streamline the process and allow you to communicate with just APS for a full-service experience.
If you're thinking about pivoting to e-commerce, or if you've already done it and are feeling overwhelmed in dealing with the product fulfillment, shipping, and returns on your own, contact us at APS Fulfillment, Inc. and one of our consultants will tailor a product fulfillment plan that works to help grow your business, even as we deal with COVID-19.
To book a consultation, call 954-582-7450 or email [email protected] today.