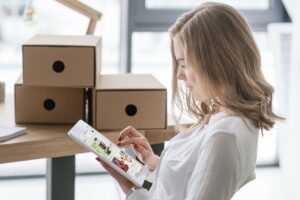 One of the originators of online buying and selling, eBay is an e-commerce pioneer that's still quite popular today. But just because it's an older e-commerce platform doesn't mean it's allergic to innovation and improvement. And one such improvement many businesses are taking advantage of these days is eBay order fulfillment through third-party logistics (3PL) providers.
Outsourcing your fulfillment can solve many of your eBay order fulfillment challenges, as well as provide a number of benefits. Let's take a look at some of those benefits of working with a third party for eBay order fulfillment.
Cheaper Rates for Shipping
When you work with a 3PL provider, you're often taking advantage of highly efficient shipping channels and warehousing services. These two things working in tandem can actually serve to significantly reduce your shipping rates, saving your business money while also managing the shipping process for you, meaning you have less on your plate.
Also Read: Everything You Need to Know about eBay Order Fulfillment Services in Florida
Faster Shipping Service
With so many e-commerce competitors out there, one key differentiator is shipping speed and reliability. Without speed and reliability, your customers are certain to flock to some other online seller. What's more, speed and reliability is not only critical to customer retention, but also engendering loyalty, which in turn means your customers will start spreading the good word about how fast and accurate your shipping is, reeling in new customers.
Better and Faster Customer Support
No matter how good your fulfillment service, mistakes still do happen. But you can get your 3PL provider to handle all the phone calls, returns, shipping issues, etc. Instead of struggling with your search for how to fix eBay order fulfillment challenges, your eBay order fulfilment partner will take care of the customer service and support for you, again alleviating pressure on you and your team.
Increased Efficiency
Between multiple warehouses, experience in dealing with adverse conditions, and the ability to pick, pack, and ship at faster rates (without sacrificing accuracy), you'll benefit from a wide range of optimizations that ultimately boost your bottom line.
APS Fulfillment, Inc. Is Your Best Fit for eBay Fulfillment Services
Get faster, more efficient, and more cost-effective eBay fulfillment services today with APS Fulfillment, Inc.
We offer full-service e-commerce fulfillment out of Miami that includes state-of-the-art warehouse management software (WMS), and we make inventory management and goods tracking easy. We'll also support your business and automate the warehousing, prepping, shipping, picking, and packing of your orders!
Get in touch with us and one of our consultants will tailor a fulfillment plan designed to grow your business. Book a consultation by calling (954) 582-7450 or email [email protected].