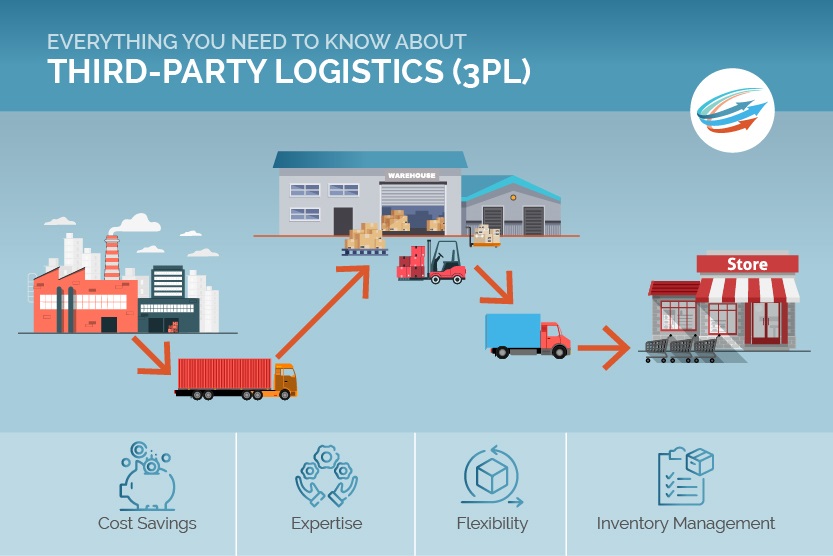 When it comes to third-party logistics (3PL), there are a lot of misconceptions floating around. Some people think that third-party logistics is only for large businesses, or that it's too expensive for small businesses to use. Others may not even know what third-party logistics is or how a 3PL provider could benefit their business.
In this post, we'll break down everything you need to know about third-party logistics and explain how it works. We'll also provide information on how to find the best third-party logistics provider for your business needs.
What Exactly Is Third-Party Logistics?
A third-party logistics provider is a company that provides outsourced logistics services to customers. Typically, a 3PL will manage the entire supply chain for a customer, from procurement and manufacturing through to distribution and delivery. 3PL providers can also provide value-added services such as inventory management, order fulfillment, and returns processing.
They have the experience and expertise to develop customized solutions that meet the specific needs of their clients. As a result, businesses that partner with a 3PL provider can focus on their core competencies and leave the logistics to the experts.
In recent years, the rise of e-commerce has led to an increase in demand for 3PL services, as businesses look to outsource their logistics operations to specialist providers. The global 3PL market is expected to continue to grow in the coming years, as more businesses look to improve their supply chain efficiency and meet the needs of their customers.
What Is the Difference between a 3PL, 2PL, 4PL and Freight Forwarder?
As mentioned above, a third-party logistics provider is a company that provides outsourced logistics services to business such as transportation, warehousing, and order fulfilment. This allows businesses to focus on other more important business tasks while leaving the logistical side of the business to the experts.
A freight forwarder, on the other hand, is a company that specializes in the transportation of goods. A freight forwarder does not typically offer other logistical services, such as warehousing or order fulfilment.
A 2PL is a company that provides logistical services but does not own its own fleet of vehicles or warehouses.
Meanwhile a 4PL is a company that provides end-to-end logistics solutions, from transportation to warehousing to order fulfilment. 4PL providers typically manage multiple 3PL providers, allowing them to offer a comprehensive solution to their clients.
What Are the Benefits of a 3PL Provider?
While each company has its own unique needs, there are several key benefits that 3PL providers can provide your business.
Cost Savings
One of the biggest advantages of using a 3PL provider is cost savings. By outsourcing logistics to a third party, companies can avoid the high costs of maintaining their own transportation and warehouse infrastructure. In addition, 3PL providers often have economies of scale that allow them to provide services at a lower cost than companies could achieve on their own.
Expertise
Third-party logistics providers can bring expertise and experience to your company. Many 3PL providers have extensive knowledge of the logistics industry and can offer insights on how to improve your supply chain. They can also help you implement new technologies or processes that will make your operation more efficient.
Flexibility
Another key benefit of 3PL provider is increased flexibility. Companies that use third-party logistics providers can quickly adjust their supply chain in response to changes in demand. This can be crucial in industries with rapidly changing customer needs, such as fashion or consumer electronics. 3PL providers can help companies expand into new markets or add new product lines without needing to make major investments in logistics.
Inventory Management
Inventory management is essential for any business that wants to maintain a healthy bottom line. However, managing inventory can be a time-consuming and complex task. 3PL providers specialize in managing inventory and can provide businesses with the tools and resources they need to streamline their operations. In addition, 3PL providers often have relationships with manufacturers and suppliers, which can help to reduce costs.
Business-to-Business (B2B) Fulfillment
A third-party logistics provider can offer many benefits to a business, but one of the most significant is business-to-business (B2B) fulfillment. B2B fulfillment is the process of handling and shipping orders from one business to another. A 3PL provider can manage this process from start to finish, including warehousing, order processing, and shipping. This can be a valuable service for businesses that do not have the resources or expertise to manage their own fulfillment operations.
Business-to-Consumer (B2C) Fulfillment
Another key benefit of using a 3PL provider is business-to-consumer (B2C) fulfillment. In today's fast-paced world, consumers expect to receive their orders quickly and efficiently. By partnering with a 3PL provider, businesses can take advantage of their expertise and resources to ensure that orders are fulfilled quickly and accurately. As a result, businesses can provide a better customer experience and build loyalty among their customers.
Value-Added Services
Value-added services can include things like inventory management, order fulfillment, and even returns processing. By partnering with a 3PL provider, businesses can offload some of the responsibility for these tasks, freeing up their time and resources to focus on other areas of their business. In today's competitive marketplace, the ability to focus on your core competencies is more important than ever before. As such, the value-added services offered by 3PL providers are a key benefit that businesses should consider when making their shipping and logistics decisions.
Why Choose APS Fulfillment, Inc. for Your Third-Party Logistics Needs?
Overall, there are many benefits that third-party logistics providers can offer.
At APS Fulfillment, Inc., we offer full-service e-commerce fulfillment out of Miami that includes state-of-the-art warehouse management software (WMS). We make inventory management and goods tracking easy and simple, even during these complicated times and supply chain shortages. We'll also support your business and automate the warehousing, prepping, shipping, picking, and packing of your orders!
Get in touch with us today and one of our consultants will tailor a fulfillment plan that will help grow your business. To book a consultation, call (954) 582-7450 or email [email protected].