APS Fulfillment, Inc. Is Your Premier Partner for Seamlessly Integrated E-Commerce Sales on eBay
eBay is one of the world's biggest online marketplaces, where buyers and sellers from every corner of the world come together to trade virtually everything and anything. Each day, eBay handles more than two billion transactions.
What eBay doesn't handle, though, is fulfillment services. Whether you sell a few items each week or operate an established online seller with numerous retail channels, it's up to you to manage, store, and ship your own products.
Unfortunately, that's not a feasible option for eBay merchants that have to ship out a large number of products. The best way for eBay sellers to tackle their order fulfillment is through a third-party fulfillment company.
And when it comes to having your eBay orders processed quickly, efficiently, and accurately no one has more experience than APS Fulfillment, Inc.
With APS Fulfillment's state-of-the-art warehouse management software (WMS), it's easy to connect your eBay store and automate the warehousing, prep, pick and pack, shipping, and warehousing of your eBay auction items!
Through APS Fulfillment's real-time processing, we can confirm your order, have it picked and packed, and shipped with one of our trusted partners, in just one day.
Features of APS's eBay Fulfillment Service
APS Fulfillment, Inc. has a long history of successfully helping eBay merchants navigate the often complicated and time-consuming process of running an online business.

Serve Businesses of Any Size
At APS Fulfillment, we don't care how big or small your eBay store is. We have no monthly order minimum requirements and no limit on the product's weight, size, or shape. We can also provide space and customized shelving for both larger and smaller items.

Receiving
APS Fulfillment gets your inventory on the shelves within 24 hours of it entering our warehouse.

Product Inspection
We check each of the shipments from our eBay merchants, making sure we have the right items and the right number of items. APS Fulfillment can also do quality control inspections.

Order Fulfillment
Your eBay orders are submitted to APS Fulfillment from your online store automatically, via our cloud-based WMS. Then we take care of the rest. Once your order is picked, packed, and scanned, it automatically gets assigned a tracking number that your customer will be sent via email.

Order Management
Our cloud-based WMS allows for real-time updates on current inventory and allocated inventory for orders, as well as available inventory for future orders, returns, and quarantined products. Inventory status is also locked up, so you'll never be oversold and left with disappointed customers.

Dedicated Customer Support
We have a dedicated account management and 24-hour access to ticket support on WMS questions and issues. APS Fulfillment also offers live agent support, account management, and on-site communication and technical support.
Why Third-Party Fulfillment Is a Must for eBay Sellers
Outsourcing your eBay fulfillment services is an excellent way to tackle the complex order fulfillment process and avoid costly overhead. But there are a lot of other great reasons why eBay merchants should use APS Fulfillment as their third-party fulfillment partner.
Location: APS Fulfillment, Inc is close to all major transportation hubs. We are located just 20 minutes from the Port Everglades (the top port in Florida) and 30 minutes from the Port of Miami.
Low Shipping Costs: Thanks to the high volume of parcels we ship from our fulfillment center, our customers save on their shipping expenses with our closest partners: USPS, UPS, and FedEx.
Fast Shipping: 95% of all orders received before 1:00 p.m. get shipped out the same day and are guaranteed within 24 hours. In addition to one- to two-day shipping, we also provide a variety of other options, including ground, media mail, and priority mail.
Customized Packing Services: In addition to pick and pack, we also provide kitting and other assembly and packaging services.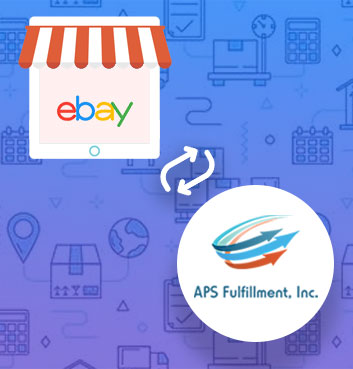 Outsource Your eBay Order Fulfillment with APS
At APS Fulfillment, Inc. we specialize in eBay, Amazon, and other e-commerce brand order fulfillment and warehouse fulfillment services. We've stored, sorted, and delivered products of all shapes and sizes for all kinds of companies, all around the world. Contact us by phone at 954-582-7450 or by e-mail at [email protected] for more ways third-party warehousing and fulfillment services can support and grow your eBay business.