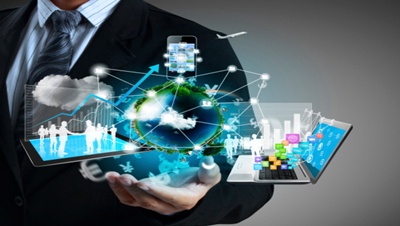 Technology is a major component of any business today, and product fulfillment is no exception. A necessity to ensure that jobs are completed quickly and properly, technology used in the product fulfillment industry thankfully doesn't have the learning curve that you'd expect. Rather than learning how to use it, you should focus on determining which technology to use and what you need it for.
In-House
Product fulfillment businesses often specialize in certain areas of the field, such as creative direct marketing, product shipping, or direct mail marketing services. For this reason, not every piece of tech related to product fulfillment is beneficial to every business.
Potentially useful programs include Adobe's Studio and Framemaker, which can be used to create graphics, set copy, and even design full layouts for brochures and catalogs. These and many other programs are common tools for many publishing companies for both print and digital content, and can serve your product fulfillment company just as effectively.
If you've gone all out with your e-commerce fulfillment services, you're going to need to incorporate proper in-house digital operations: this can include larger servers, a well-mapped IT system, and strong antivirus software. Many of these systems also come with additional features, such as client registration and information storage, that will make it easier to track shipped products.
Tech Squad
There's technology that may be too large, both physically and in scope, for your business to keep on-site. Should a task arise where that tech is needed, you'll need to contact another business that has access to it. One such example would be print-on-demand companies coming to the aid of smaller businesses that suddenly need a large amount of printed materials quickly.
Getting assistance with kitting and assembly from tech firms that specialize in product fulfillment can also be beneficial. Such organizations tend to incorporate programs such as voice-directed picking systems and unit sortation—programs your business could stand to learn about and later incorporate yourselves, saving you the costs of hiring another company.
Need solutions to your product fulfillment problems? APS Fulfillment, Inc. has the knowledge and services to make your direct mail and product fulfillment ventures more successful. Contact APS Fulfillment, Inc. by e-mail at [email protected], visit their web site at www.apsfulfillment.com, or phone at (954) 582-7450.