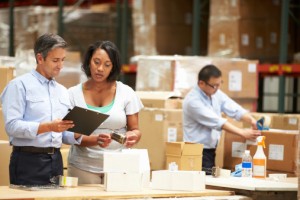 Customers today are all about the experience. From the moment they visit your website, customers want to feel catered to, which is one reason why user experience (UX) has become such a huge factor in swaying customer opinion. Consumers expect your site to be designed with them in mind—and your brand to be a part of their overall experience.
When dealing in the online world, customers may decide to buy into the experience you've created; part of that experience is having products shipped to them. These days, you better believe that how an item is shipped—from the cost, to the time it takes for the item to be delivered, to the package it arrives in—are all being judged in parallel with UX on a website. That is why it's crucial to utilize the services of an e-commerce fulfillment service.
Manage Customer Expectations with an E-Commerce Fulfillment Service
The reality is that there are costs associated with shipping. Another reality is that customers hate paying shipping costs, whether they are affordable or not (and worse if they appear to be excessive!). First, research your options for a shipping partner. Understand what type of items you'll be shipping on a regular basis and negotiate to get the best deal.
Keep in mind that there are several options available to cover shipping fees:
You cover the cost—meaning you pay the fees at no cost to the customer.
Increase your cost of the product so it includes shipping fees (which essentially means your customers are burdened with the cost.).
Do a bit of both: partially increase your costs to reduce shipping costs, but not enough to where the customer is exempt from any charge. Customers typically appreciate it when the company covers at least part of the shipping costs (unless you can work out a deal with your shipping agency partner that benefits everyone).
Charge what is called real-time carrier rates. This essentially provides customers with the opportunity to choose the shipper themselves, based on the real-time pricing made available on your website.
Charge a flat fee. This is a bit risky as shipping rates tend to fluctuate fairly regularly, so you would have to find a median cost that works for both you and your customer, and then stick with it for however long you outline in your agreement. But if you are delivering standard items that don't differentiate greatly, then this may be a useful option.
Packaging Matters
Jessica Alba, movie star and mother of two, now runs a successful consumer goods company called the Honest Company. The company provides non-toxic, healthy options to their consumers (primarily infants and children). What would your reaction be if you received an Honest product and the package was filled with plastic and Styrofoam? The product packaging would be completely disconnected from their messaging! This would throw you off as a consumer and may even impact your perspective on their actual products.
The same rules apply for all businesses, small and large, that are shipping products to their clients. The packaging is part of the experience and must draw a straight line from discovery to shipment. If something doesn't add up along the way, then questions begin to arise in your mind as to the authenticity of the brand.
APS is Your Trusted E-Commerce Fulfillment Service
However you decide to go about shipping your products, it's important to recognize the importance of this step. As an e-commerce fulfillment service based in Florida, APS Fulfillment, Inc. understands how crucial shipping is to forming consumer opinion and maintaining consumer loyalty. We have proven systems in place to best ensure your products arrive on time and in the right packaging.
We are based in Florida but offer ecommerce fulfillment services for clients worldwide. Contact APS Fulfillment, Inc. today to take care of all your shipping needs.