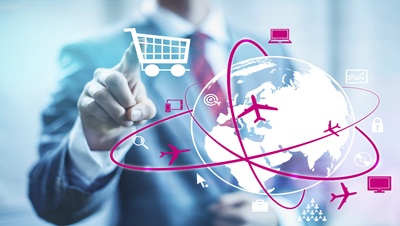 As the consumer marketplace becomes increasingly digital, product fulfillment businesses have to work to keep up and utilize the technology. That said, it's thankfully not as difficult as you might imagine. Here's what you need to know to make the most of your e-commerce fulfillment.
Covering Your Bases
Any e-fulfillment of course requires logistics management to handle online order fulfillment; this includes fulfillment centers, as well as any fulfillment warehousing. Research what large companies like Amazon use and base your own systems around those, accounting for differences such as your business' size and products.
Many businesses fail to take into account digital products, such as e-books, video games, and apps. Depending on what sort of items make up your product line, you might be able to offer digital products as well. If this is a possibility for your business, check out fulfillment centers and/or product suppliers to see which options are available to you and determine whether it's worth offering digital items or not.
Underway
E-commerce fulfillment is like any other aspect of product fulfillment, meaning it can go wrong. With such a complex network, bugs are a real possibility that you always have to be prepared for. Aside from contacting tech support, also make sure to address other security issues on your end. Offer shipping insurance to clients, use proper security for their information, and present formal guarantees for speedy delivery. These are all things your business should already be doing, meaning it's that much simpler to implement quality e-fulfillment services.
Need solutions to your product fulfillment problems? APS Fulfillment, Inc. has the knowledge and services to make your direct mail and product fulfillment ventures more successful. Contact APS Fulfillment, Inc. by e-mail at [email protected], visit their web site at www.apsfulfillment.com, or phone at (954) 582-7450.