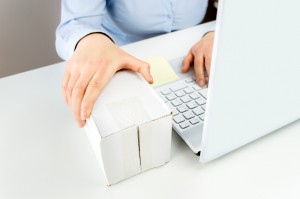 There are numerous reasons why an e-commerce customer would return a product ranging from ordering the wrong size to simply changing their minds. E-commerce orders face a higher rate of returns than brick-and-mortar store purchases, so there will always be a need for effective e-commerce product returns management. The importance of an effective returns management strategy is quite simple. If done well, you can recapture value from the products and minimize the costs associated with the process. If customer returns aren't managed properly, then you face an unpredictable scenario where you can't reliably trust how much of your sales profits are actually going to stay with your company. Fortunately, there are ways to improve the process.
Apply Direct Fulfillment Practices to Returns Product Management
Several principles that product fulfillment centers use when sending items to customers can also be used to improve customer returns management practices. For example, direct fulfillment typically involves tracking order rates in order to anticipate inventory needs and acting accordingly. Returns management for e-commerce products can adapt this by tracking rates of returns and seeing if inventory can be adjusted based on the findings. If a low-cost product sees a high rate of return, it might be decided that selling the item is more trouble than it is worth.
Another approach can be to adopt some of the practices of the pick-and-pack process. Much as how outgoing shipments are verified to make sure they contain the correct items and are in good condition, returns need to be unpacked and have their integrity verified. Without this step, you cannot effectively tell whether a product can be resold as is, requires repairs or refurbishment, or must be recycled into the base components.
Define Your e-Commerce Returns Policy
One of the trickier aspects of customer returns management is what happens if customers think they can return a product that they actually can't. This can be a no-win scenario for you since either you break policy and start on a slippery slope, or you refuse the return and end up with an unsatisfied customer. Making sure that your in-store and e-commerce returns policy is clear, unambiguous, and easily visible helps reduce confusion and preserve consumer trust. This is particularly true when dealing with time constraints or refund windows, and extra effort should be made to make sure the customer is aware of and understands the limits.
Integrate Product Rework into e-Commerce Fulfillment Centers
Inspecting and refurbishing or reworking products takes a different skill set than direct consumer fulfillment, so it can make sense to have these matters dealt with at a different location. This can add extra costs in the form of overhead and in transporting restored items back to your main warehouse or shipping location. Finding ways to integrate the inspection and reworking of products into your main e-commerce fulfillment centers helps keep returns management efficient and speeds up the overall process.
Look to APS for Ecommerce Returns Management
APS Fulfillment Inc. is a leading order fulfillment service company that operates out of Miami, Florida. Our integrative approach tackles supply chain management, real-time inventory management, warehousing services, shipping, returns management, and everything else needed to ensure your goods get to their destinations. We've stored, sorted, delivered, and quality-assured products of all shapes and sizes for all kinds of companies across a wide variety of industries. Contact us by phone at 954-582-7450 or reach out to us by email at [email protected] for more ways our fulfillment services can support and grow your business.