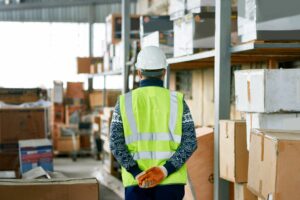 As the e-commerce and online shopping market continues to grow, order fulfillment options are also growing in tandem. Nowadays, these fulfillment services are tailored to specific e-commerce platforms, each offering their own qualities and shortfalls. In this piece we'll be diving into eBay order fulfillment services in Florida, so you can begin to evaluate which fulfillment option is right for your business.

What Are the eBay Order Fulfillment Services?
Essentially, eBay fulfillment services are just that—services that make management of your fulfillment obligations easier. That means the eBay fulfillment service you choose will manage the picking, storage, packing, and shipping of all your eBay orders.
Your eBay fulfillment partner can ensure that your customers' orders reach them on time, that they're accurate, delivered faster than handling them on your own, and they can even save you money.
Before we delve into the benefits of eBay order fulfillment services in Florida, let's evaluate the different eBay fulfillment options available.
Different Options for eBay Fulfillment Services
Deliverr e-Commerce Fulfillment Partner
Deliverr is an eBay fulfillment partner that not only works with eBay, but also Amazon, Shopify, Wish, and a number of other popular e-commerce platforms as well. It offers a number of standard features like two-day delivery and multiple warehouse coverage. The pricing is clear, and they make it easy to calculate the costs of free delivery. In order to get started, you have to upload limited products as a test, and from there you can evaluate if Deliverr is right for you.
eBay Managed Delivery
eBay has its own fulfillment service: eBay Managed Delivery. It offers full-service fulfillment support for eBay sellers. The main benefit is that the fulfillment is taken care of by eBay directly and gives you access to its warehouses instead of relying on a third-party.
Amazon Multichannel (FBA)
Fulfillment By Amazon (FBA) is another fulfillment service offered by a top e-commerce platform. This is especially convenient for businesses that already use the service for Amazon orders. This service makes use of FBA warehouses as well as additional warehouses in order to support non-Amazon customers.
What Are the Reasons to Use eBay Fulfillment Services?
Faster Delivery for Your Orders
With the additional staff and resources, it's easier to speed up your deliveries, leaving you with happier customers and fewer mistakes. These delivery times can also be used to entice customers to buy your goods as fast delivery times are now not only expected but demanded by customers.
Broad Coverage 
In order to fulfill orders across the country, you need a comprehensive network of warehouses that ensures you'll be able to fulfill these orders in a timely manner. With more warehouse locations, you expand your coverage and reach, allowing you to access a larger potential base of customers. With more warehouses, the easier it is to fulfill orders quickly due to the shorter travel times. Better yet, some eBay fulfillment services use developing technology like machine learning and predictive analytics in order to improve delivery times moving forward by using historical data to predict demand in geographical areas, helping to ensure you're fully stocked before the rush.
Save on Costs
When working with larger businesses, you gain access to all their resources and leverage, which typically means lower prices in general, from lower storage costs, packaging costs, and shipping costs.
Expert in Delivering Quality Items
There's no bigger turnoff for customers than eagerly anticipating a delivery only to get the wrong one—or worse yet, receive a damaged item. These fulfillment services are experts at delivery which means higher accuracy and fewer instances of damaged good.
Save Warehouse Space
Another huge benefit of having an eBay fulfillment partner is the ability to scale easily. These larger fulfillment services have access to a larger network of warehouses, so you can scale to meet your needs as demand ebbs and flows. This is especially useful for businesses that experience seasonal shifts in demand, allowing them to avoid having to pay year-round for warehouse space they don't need.
Outsource Your eBay Order Fulfillment Services with APS Fulfillment, Inc.
If your business is looking to maximize its ROI on fulfillment services for eBay, Amazon, or any other e-commerce platform, then it needs APS Fulfillment, Inc.
Have your eBay orders processed quickly, efficiently, and accurately—no company has more experience than APS Fulfillment, Inc. when it comes to optimizing a business's fulfilment services.
Leverage our state-of-the-art warehouse management software (WMS) and make it easy to connect your eBay store and automate the warehousing, prepping, shipping, picking, and packing of your eBay auction items!
With APS Fulfillment's real-time processing, we can confirm your order, have it picked and packed, and shipped with one of our trusted partners, in just 24 hours.
There are a wide range of benefits to working with a third-party logistics company that uses the best-quality software systems to manage your warehouses. Other product fulfillment companies may offer a similar set of services, but APS Fulfillment, Inc. goes the extra step. We take great pride that our quality control procedures are state-of-the-art, and we guarantee 24-hour turnaround times for our service orders.
Get in touch with us and one of our consultants will tailor a fulfillment plan designed to grow your business. Book a consultation by calling (954) 582-7450 or email [email protected].