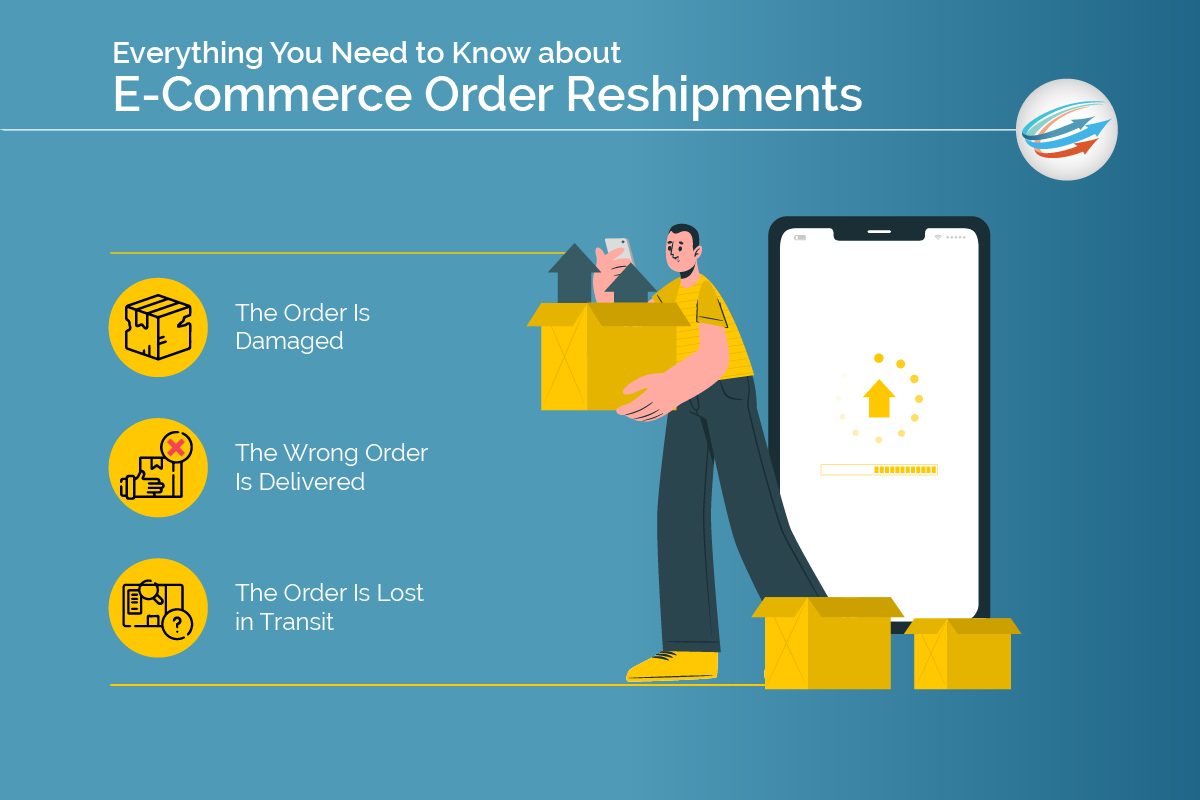 Order reshipments are a necessary part of doing business in the e-commerce world. Whether it's because a customer received damaged goods, the wrong item, or simply changed their mind, reshipments happen all the time.
As an e-commerce business owner, it's important to understand the ins and outs of order reshipments so that you can keep your customers happy and avoid any unnecessary headaches. In this blog post, we'll cover everything you need to know about e-commerce order reshipments. Read on to learn more!
What Is a Reshipment?
Reshipment is the process of re-sending a package from one location to another. This may occur as part of the original shipping for customers or even between vendors or distribution centers. Reshipment is often used when packages are damaged during transit, when fulfilling promotional offers such as free shipping for specific orders, or for urgent orders that require items to be delivered faster than the original service.
Ultimately, reshipment provides customers with a better delivery experience by allowing packages to arrive at their correct destination in an expedited and safe manner.
Reasons for Reshipping an Order
Reshipping orders is often a necessary part of running a successful business. Below are a few reasons why e-commerce order reshipments might be necessary.
The Order Is Damaged
Most retailers understand the importance of a satisfied customer and they strive to prevent any order problems. However, there are times when an order arrives damaged or incomplete due to factors out of their control. When this happens, it is necessary for retailers to reship the order in order to make sure that customers receive exactly what they paid for.
The Wrong Order Is Delivered
It is necessary to reship an order when the wrong product or the incorrect quantity of products have been delivered. This could happen when there has been a mistake with processing the order, such as picking and packaging the wrong items which were requested by the customer.
The Order Is Lost in Transit
Reshipping an order is also necessary when the original package is lost or misplaced throughout its journey. This most commonly occurs in transit, when a shipment cannot be located between the sender and recipient. In these cases it is important to reship the order as quickly as possible so that customers can receive their purchases without any added delay.
What Is the Difference between a Reshipment and a Return/Exchange?
Understanding the difference between a reshipment and a return/exchange is important to understand when shopping online. A reshipment refers to when an item that was shipped is sent back to either the customer or directly to the shipper, while a return/exchange involves returning an item from the customer's possession in order to receive an exchange or refund.
Both methods require customers to contact customer service prior to shipping back items. Whenever returning items, understanding which type of transaction applies is key for all customers in order for them have their expectations met. Knowing these differences helps all parties—the customer and the retailer—understand what actions need to be taken.
How Can You Minimize E-Commerce Order Reshipments?
Through excellent customer service and proper shipping processes, minimizing e-commerce order reshipments can be a reality. Here are some tips for minimizing e-commerce order reshipments.
Improve Packaging
Improving packaging is an effective way to minimize e-commerce order reshipments. Using packing materials with enough cushion and bubble wrap can ensure the safety of the product when it's delivered to the customer. Companies should also make sure that their shipping boxes are large enough for the item and all necessary packaging, with plenty of cushion space on all sides.
Use Tracking Numbers
Labeling orders correctly can help prevent mix-ups from happening in transit—even if a package arrives damaged, it will be easily identified at its destination. At the same time, offering customers tracking numbers makes customers feel more secure and reduces the chances of packages being forgotten or lost while on its way to them.
Verify the Shipping Address
Minimizing e-commerce order reshipments starts with verifying the shipping address provided. When a customer provides their address, compare it with the U.S. Postal Service database to ensure accuracy and completeness. Taking this extra step prevents time and money from being wasted on returns due to typos and missed information like street numbers or apartment numbers.
Partner with the Right 3PL Provider
Partnering with the right 3PL provider is essential to minimizing e-commerce order reshipments. This type of provider specializes in managing warehouse needs, shipping, and fulfillment services for their customers, helping shippers ensure that correct items are packed and shipped on time. With their help, merchants can save money in inventory costs and reduce the number of returned orders due to incorrect information or wrong products sent.
At APS Fulfillment, Inc., we make inventory management and goods tracking easy and simple. We'll also support your business and automate the warehousing, prepping, shipping, picking, and packing of your orders!
Get in touch with us today and one of our consultants will tailor a fulfillment plan that will help grow your business. To book a consultation, call (954) 582-7450 or email [email protected].