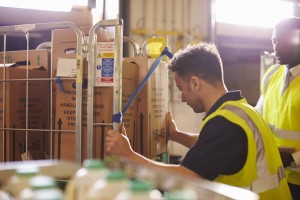 So, you have a small startup e-commerce company and you've been handling the fulfillment on your own. Now things are starting to pick up and you can't seem to keep up anymore—but is it the right time to hire a 3PL e-commerce fulfillment company? E-commerce fulfillment companies can provide you with all the supply chain services you need to keep up with your orders, but is it worth outsources these services? Would you be better off investing in a supply chain of your own, and handling all e-commerce fulfillment services in-house? If your company is small and still in its infancy, then the answer is very likely no. To learn more about whether a 3PL partner might be the right choice for you, keep on reading.
Why Should Your Small Business Choose 3PL Services?
Scalability
When you partner with a 3PL company, you'll have the ability to scale back or ramp up your supply chain services as needed. Whether you're planning a big expansion or to scale back your company, your 3PL provider will easily be able to adapt to your needs—a luxury you wouldn't have if you handled these services in-house.
Save Time and Money
When companies decide to invest in their own in-house warehousing and logistic operations, it takes a significant investment—of both time and money— to get it going. Purchasing all the necessary equipment, hiring and training employees, and covering any other overhead expenses can not only take a significant initial investment, but it can take an extended amount of time to implement those changes and get everything up and running. When you opt for a 3PL partner, they already have all of these systems in place and employees trained and ready to serve you.
Professionalism
When starting up your own warehousing and logistics process, there's bound to be a learning curve. No matter how much preparation and planning goes into it, mistakes are bound to be made. However, when you choose to partner with an outsourced fulfillment company, you can rely on the fact that they've perfected their processes and will make no mistakes when it comes to getting the right packages to the right customers, on time.
As a premier third-party fulfillment company in Florida, APS Fulfillment, Inc. is the ideal choice for those seeking a small business order fulfillment company. We thrive on helping small- and medium-sized businesses grow and expand their operations. Some companies may not be ready to make the investment into their own warehousing and logistic services, but still need access to these necessary supply chain services—that's where we come in. Our extensive experience in the industry and state-of-the-art equipment makes us the perfect 3PL partner for small business across the nation. Contact us today for more information on how we can help enhance your supply chain.
Photo Credit: iStock.com/monkeybusinessimages