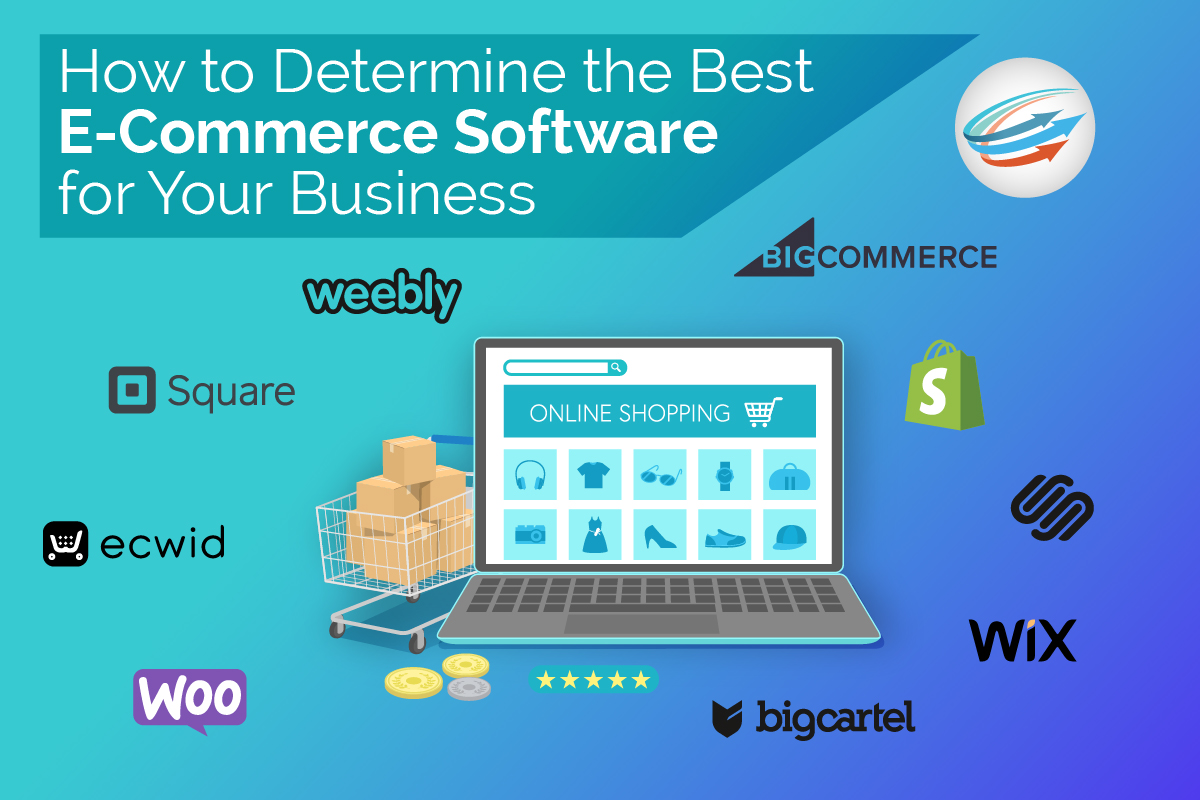 Are you a small- or medium-sized e-commerce business looking for the best e-commerce software? Choosing an effective, user friendly platform is essential for businesses to succeed in today's digital market. It can be difficult to figure out which technology will make up the backbone of your online success, so this blog post will provide some tips and insight on how to identify the ideal software solution for your needs. From assessing features and security protection to budget considerations and customer support, we'll cover all the key elements that go into selecting high-quality e-commerce tools.
Types of E-commerce Software
To stay competitive, businesses have started to explore various e-commerce software options that can help streamline their online sales. Below are some options to choose from:
Hosted vs. Self-Hosted Solutions
A hosted solution is one that is provided by a third-party provider and requires no installation or technical setup on your part. This type of solution is often easier to use, as the provider takes care of all the technical aspects for you. On the other hand, a self-hosted solution requires you to install and configure the software yourself, which can be more time consuming but may offer more flexibility in terms of features and customization options.
Cloud-Based E-Commerce Platforms
Cloud-based e-commerce platforms are similar to hosted solutions in that they require no technical setup on your part. However, instead of being provided by a third-party provider, these solutions are usually offered by large tech companies such as Amazon, Microsoft, or Google. These platforms typically offer a wide range of features and customization options that make them ideal for larger businesses with complex needs.
Open Source E-Commerce Software
Open source e-commerce software is free software that anyone can download and use without paying any licensing fees or royalties. With this type of software, anyone can modify it to suit their own needs or even create their own version if desired. It is important to note that while this type of software may be free to use, it also requires more technical knowledge than a hosted or cloud based solution in order to set up and maintain it properly.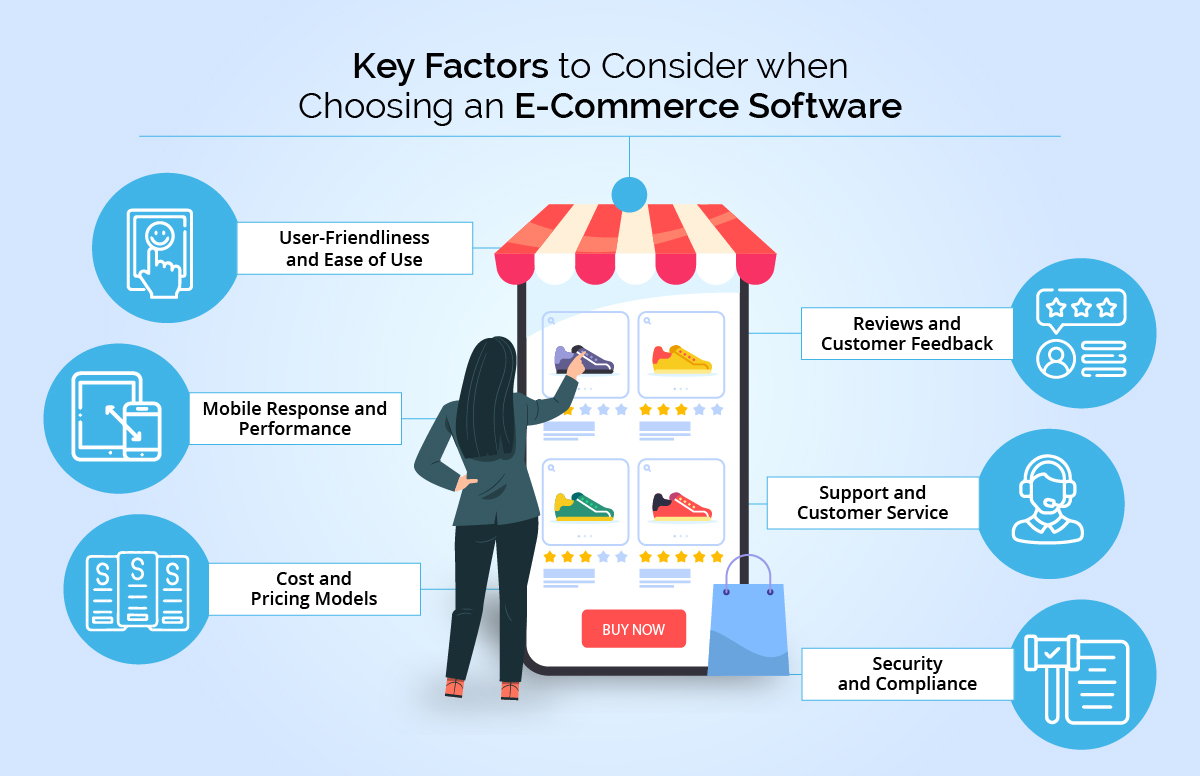 Key Factors to Consider when Choosing an E-Commerce Software
Before choosing an e-commerce software for your business, it is important to consider a few key factors.
User-Friendliness and Ease of Use
First and foremost, you want to choose a software that is user-friendly and easy to use. After all, if you or your employees struggle to use the software, it's going to be difficult to manage your online sales. In addition to usability, it's important to consider customization and flexibility. Ideally, you want a software that can be tailored to fit your specific needs and that gives you the ability to add or remove features as needed.
Mobile Response and Performance
With the increasing number of consumers who prefer to shop on their mobile devices, your e-commerce software must be optimized to deliver a seamless shopping experience across all mobile devices. It should also be able to handle high traffic and provide fast page loading times to ensure that your customers are not deterred by slow load times and shopping cart abandonment.
Reviews and Customer Feedback
One of the key factors to consider when making your decision is the feedback from others who have used the software. Reading reviews and testimonials can give you valuable insights into the pros and cons of different platforms. In addition, researching online communities and forums can provide you with a wealth of information on user experiences. Lastly, seeking recommendations from industry peers can help you make an informed decision based on the experiences of those you trust.
Cost and Pricing Models
You'll want to evaluate the initial setup costs, along with whether it requires a subscription fee versus a one-time payment plan. Additionally, it's important to take into account the transaction fees and any other hidden costs that may be involved. These factors can greatly impact the overall cost of running your e-commerce site, so it's vital to do your research and choose a software package that fits your budget and financial goals.
Support and Customer Service
It's crucial to thoroughly evaluate this support system by checking if there are documentation and training resources available and testing customer service responsiveness. Additionally, considering integrations and third-party support can help you determine how well the software works with other tools you might be using to run your business. Overall, by prioritizing the quality and accessibility of customer service, you can assure that you're investing in an e-commerce software that will consistently meet your business's needs.
Security and Compliance
One crucial aspect to consider is whether the software is PCI DSS compliant for payment processing. This certification ensures that your customers' sensitive payment information is handled securely and reduces the risk of fraudulent activity. Additionally, SSL certificates and a secure checkout process are essential for encrypting and protecting data during transmission. It's also important to consider data protection and privacy regulations to ensure that your e-commerce software is compliant with all applicable laws and regulations.
Popular E-commerce Platforms in 2023
| | | |
| --- | --- | --- |
| Company | Forbes Advisor Rating | Best For |
| Squarespace | 4.9 | Best Overall E-Commerce Platform |
| Square Online | 4.8 | Best Overall E-Commerce Platform |
| Ecwid | 4.6 | Best for Existing Sites |
| Shopify | 4.5 | Best for Dropshipping |
| Wix | 4.3 | Best Drag-and-Drop Editor |
| Weebly | 4.2 | Best Value |
| BigCommerce | 4.2 | Best for Boosting Sales |
| WooCommerce | 4.1 | Best for Versatility |
| Big Cartel | 4 | Best for Creatives |
Partner with APS Fulfillment, Inc. for the Best E-Commerce Software Solutions
When it comes to choosing a fulfilment company for your e-commerce business, thorough research is critical. After all, you want a company that not only meets your needs, but also provides exceptional service. At APS Fulfillment, Inc., we pride ourselves on being experts in e-commerce fulfillment solutions. Our suite of services includes everything from pick and pack to warehousing and shipping, all executed with the utmost attention to detail. But don't just take our word for it. Take the time to do your research and make an informed decision.
Get in touch with us today and one of our consultants will tailor a fulfillment plan that will help grow your business. To book a consultation, call (954) 582-7450 or email [email protected].